Charming Creek Walkway
The Charming Creek Walkway is a three hour hike in the hills near Westport, on the West Coast of the South Island, New Zealand. A creek? No way! Charming? More like dramatic and slightly scary - and very beautiful!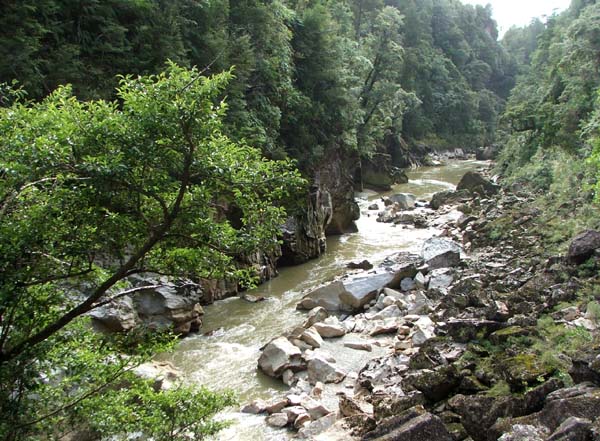 Charming Creek
The walkway does start out gently, up in the hills near the Charming Creek mine. The path descends through scrubby stands of manuka or kanuka (oops - the two are quite similar), following the line of the old mining railway. A gardener on holiday could easily become lulled into a false sense of security - this part of the walkway is truly charming, with old locomotives peeping out of sidings in the bush.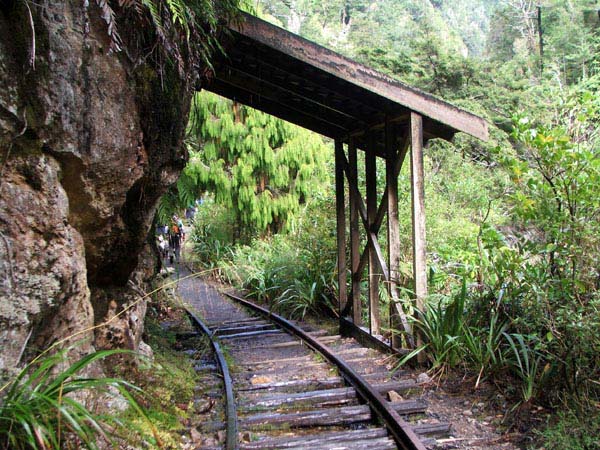 The Walkway
Oops. I reach the first scary swing bridge. I'm not so happy on narrow suspension bridges - I hold the sides and just keep walking. 'Look down there at that huge boulder!' says a friend in front. 'Can't', I squeak, squinting my eyes tight. Then one mean fellow hiker thinks it's fun to make the bridge sway. Eek!
At First the Bridges Were Easy...
Charming Creek almost immediately transforms into a wide and powerful river with the hugest boulders. High waterfalls fall through the bush, and wide, rocky side streams join the main river.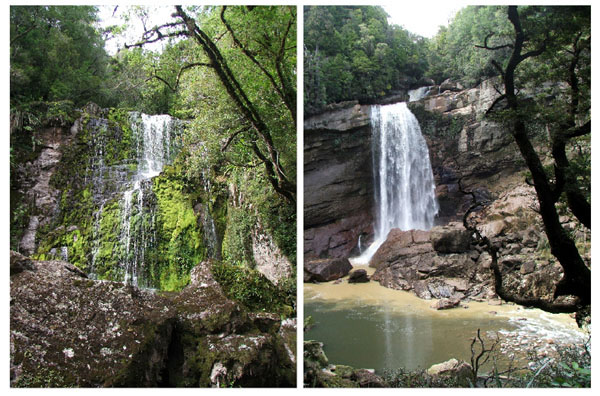 Two Waterfalls
The track, high above the river, shows its tramway origins. There are dark tunnels and mossy cuttings. The old railway sleepers still cross the path, with pieces of rail and bolts to trip up the unwary. This is definitely a strong-boots track, but as we near the roadend we meet visitors who are slopping past in sandals.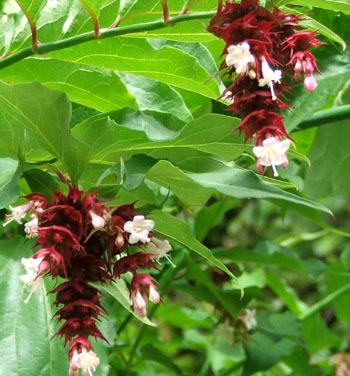 Himalayan Honeysuckle
Green Textures
The bush is beautifully textural, green on green - with small splashes of colour. A coprosma is covered with orange berries, and we pass wineberry shrubs and tree fuschias. Pity that the rata has almost finished its spectacular red flowering.
Oops - another suspension bridge, just as scary as the first. The river is even bigger, the boulders are even bigger, and the side waterfalls are even bigger. I try to imagine what it would feel like in driving rain, or with the river in flood.
Charming Creek - I'm humbled by the power of your water molecules. You are a mighty creek!
Walkway Details
The Charming Creek Walkway is a three hour walk into the Ngakawau Gorge, following the old rail line which was used to haul timber and coal out of the Charming Creek Valley. Wearing sandals is silly, and there are two suspension bridges which the Moosey Head Gardener found slightly challenging.
Old Chimney in the Bush
Intrepid mountain bikers really would enjoy this route, though the sleepers would provide a rather bumpy ride. And we were lucky to start up in the hills and journey down, almost to sea level.