Carroll Hut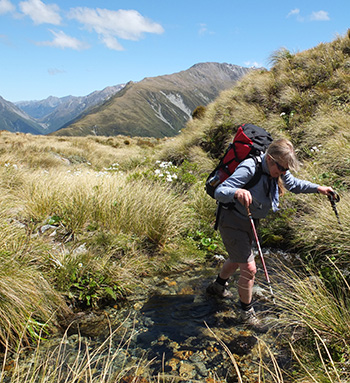 Head Gardener
It's the summer hiking season. Non-Gardening Partner and I have just enjoyed a short overnight visit to Carroll Hut, on the Kelly Range, high above the Otira Gorge in Arthur's Pass. Sweet memories - we last tramped up here about thirty years ago. 'But we were ever so much younger then...'
And the old memory plays such sneaky tricks! Plodding carefully up the sidling track above the bush line, things were rather more precipitous than I'd remembered. Thirty years ago I would have peeped down into the gullies deep below without a care.
My older eyes found the views down to the Otira valley below a bit scary. In consultation with my older head they decided on the wrap-around dark glasses and head-down, watch-only-the-track approach. In other words, don't look down too much!
The initial climb up the bush ridges and spurs was pretty steep, but delightfully sculpted with natural ladders up tree roots, and plenty of hand-holds for the more difficult bits. I had to take my pack off a few times and throw it up first. Not a problem! I love being in the bush, surrounded by foliage greenery. Bush tracks always feel safe to me.
Trimmer and Slimmer?
Non-Gardening Partner didn't remember the bush climb being quite so steep. Is it possible he might have been trimmer and slimmer back then? Oops. Better not suggest that.
Carroll Hut (reached after three hours) is new, too - the old hut that we stayed in burnt down (I need to check the date of this). It's situated on a tussock plateau near the saddle, surrounded by large flowering white Ranunculus. After dropping off our packs we sauntered up and over the tops to the 'other side' and looked down at the Taipo River and over to the Taramakau River (rudely called the 'Terrible Cow' because it can be terrible to travel along). We passed alpine tarns full of darting tadpoles.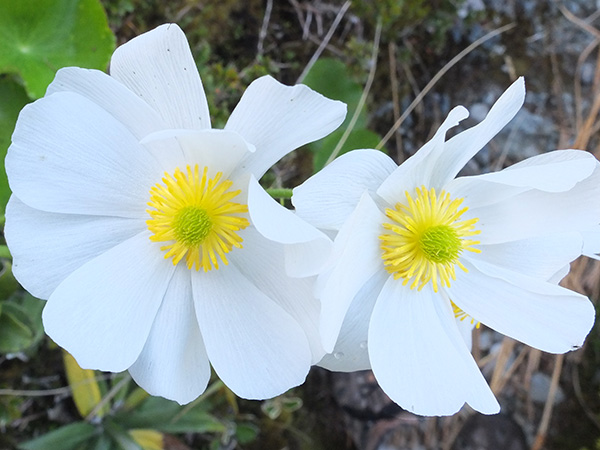 Ranunculus lyallii
Later that evening the frogs started croaking gently underneath the midsummer moon. With no wind, clear skies, good food, and great company, Carroll Hut (700 meters above the Otira Valley) was a peaceful, starry-skies place to spend the night.
Older and Slower?
Some things change, some things stay the same - like the pride of being in the mountains, well away from the chores of normal life (mowing lawns, trimming Hazelnut suckers, fixing pumps, and so on). Older and wiser? Older and slower, but the joy is still there!