Sudden Valley
Non-Gardening Partner and I have been tramping (hiking, scrambling, boulder-hopping, even walking) up Sudden Valley in Arthurs Pass National Park. Sloshing through the pure, cold river water, stopping to cup the hands and drink, splashing the face - the perfect place to be on a hot summer's day.
Sudden Valley Stream Boulders
I love Sudden Valley. More agile (I don't want to say 'younger') groups use it as a base, travelling quickly to the bivvy in the top valley, then up and over the rugged ridges to somewhere else.
A Compact Little Valley
For me it's a compact little valley which doesn't need to lead me anywhere. The river sections - particularly the gorge with waterfalls - are gorgeous. It's compact, and I prefer to stay safe within it.
Rock Shelter on Sudden Valley Stream Bed
The first time Non-Gardening Partner and I went up Sudden Valley we stopped prematurely. This time the plan was to continue on, scramble up the so-called Devil's Chute, and take the forest track which sidled down to the top section of the river, above Barrier Falls. It was so enjoyable! And just challenging enough for my dodgy knees.
Sudden Valley Stream
The Devil's chute was really fun. It's a rocky semi-scree gut between two fairly vertical rock walls, and goes up from the gorge for 150 meters or so. On the way up I took it slowly, picking a decent route. The slope was sensible, and the going quite easy, really.
Just Resting
Backwards!
But on the way down? Hmm... Backwards the whole way, I'm afraid, following Non-Gardening Partner, whose man-legs had no such problem.
Action Photographs?
NGP was supposed to take action photographs, but I regret that the Moosey Bottom in Shorts has asked not to be published. Fair enough...
On a river scrambling trip like this I do wish I was more agile, more sure-footed, and had proper bendy knees. Sometimes it takes me twice as long as the others to swing through a set of big boulders. But then I stop and think - I'm here, doing it. Slowly, and surely, enjoying myself so much... NGP, please wait for meeeeeee!
Footnotes
I've seen some descriptions of 'proper' hiking parties incorporating Sudden Valley as part of a longer trip. Envious? Hmm... Just a little, maybe. But these sound like very serious, challenging routes, too difficult for me.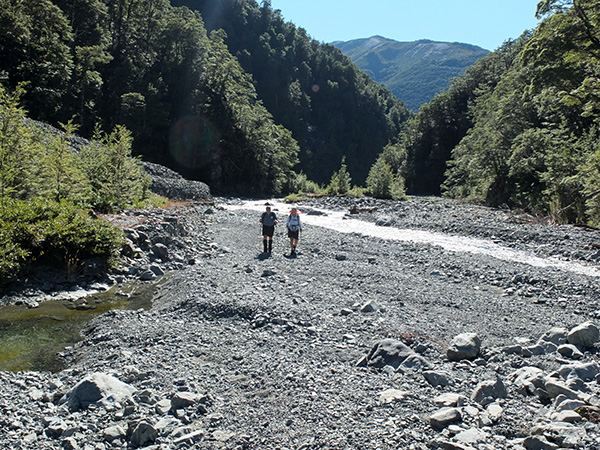 The Start of Sudden Valley
Thinking of going up Sudden Valley? Choose good companions (we did - huge thanks to friends Biddy and Bill) and make sure the river levels are relatively low. Stay safe, and enjoy...