Westland's Glaciers
I've just taken a short trip over to the West Coast to 'see' two of New Zealand's easily visited glaciers - Fox and Franz Joseph. Both are spectacular, seeming to tumble down from the Southern Alps into the temperate rain forest beneath.
Franz Joseph Glacier
These two glaciers almost have their own radio programme - they're used nearly every day in New Zealand's official weather forecasts. 'Westland, south of the glaciers' gets mentioned a lot - three days out of four it's raining, or threatening to rain! 'North of the glaciers' is usually a finer story...
Fox and Franz Joseph
Fox and Franz Joseph glaciers have always been easily visitable for me, a longish day's drive from Christchurch, over Arthur's Pass and on down the West Coast's winding tourist roads. They're thirty kilometers apart, with ample parking at each for campervans and rental cars.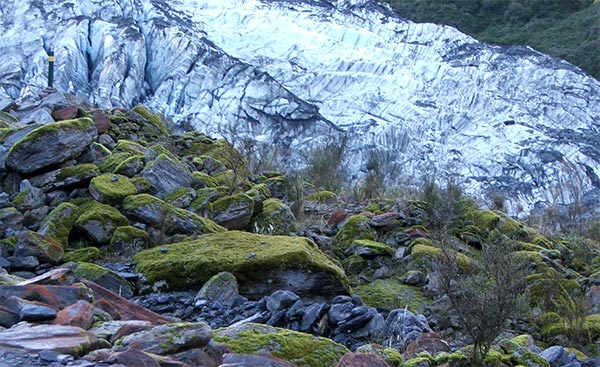 Fox Glacier
Visitors can wander slowly to lazy lookouts, or spend a strenuous day hiking up neighbouring ridges. There are guided glacier walks, serious ice-climbs, and fancy fly-overs in buzzing helicopters - in other words, something for everyone.
Southern Alps
The glacier country of the West Coast, on a clear day, is remarkable even from the comfort of a car, or a rest stop by one of the small flax-hugged lakes. Behind the rugged bush-clad hills are the mountains of the Southern Alps, their snowy peaks lined up in a row like beauty contestants. Mount Cook, Aorangi, is the highest, the winner. It's everybody's favourite and gets all the publicity - road signs point to a perfect view-point, postcards cram the racks in all the shops.
West Coast River Valley
So naturally, if there is just one rogue cloud in the sky, it will settle rudely on Mount Cook's top point. The nearby peaks, runners-up Tasman, Sefton and Ile de Beaumont, can be dazzling in brilliant sunshine, but they are not what the visitor has come to see. Oh dear! Poor mountains - condemned to be forever also-rans, never to enjoy that moment of winning tourist glory...
Glacier Competition
There's fierce competition, too, between the two glaciers Fox and Franz Joseph. Which one is better? Which is more dramatic? Which one can a lazy visitor get closer to? A poster in the Westland National Park plays shamelessly along. If you only had the time to meet one glacier - just one - which one should you choose? Two mighty landforms are reduced in status to desserts on a cafe menu - should I have the chocolate mud cake, with organic cream - yum - or the tart lemon yoghurt cake with homemade vanilla ice-cream? Another yum... Do I have room for both
The Mighty Southern Alps
Comparing the glacier statistics isn't all that helpful, either...
Glacier Comparison
Feeder Glaciers:

Fox has four, Franz Joseph has three.

Approximate Length:

Fox is 13km, Franz Joseph is 12km.

Terminal Face Distance from Tasman Sea:

Fox is 11 km from the Tasman Sea, Franz Joseph is 19 kilometres.
And as for their respective names, Fox is named after an early New Zealand prime minister (he changed its original name to his own - one of the perks of the job, I guess). Franz Joseph takes the name of a Grand Duke of a country a million miles away from New Zealand.
Lake Mathieson
Day-Tripping
A quote from explorer Charles Douglas (I'm not sure what he explored, but he did it between the years 1840 and 1916) says that 'Nature's true wonders don't disclose themselves to day-trippers'. But day-tripping still creates valuable memories, even if the walks to viewpoints are short, and the photographs are smiling, taken in front of tourist signs.
Helicopter flights are fun, but they make the land seem less chaotic, the mountain ridges more benign. Lucky flying visitors get an amazing visual experience, but one quite disconnected from their other senses.
The Real West Coast
Dripping fronds of tree ferns (wet clothes), the dark forest green and tangled with misty drizzle (can't see), slippery rocks over rushing water (careful, careful), damp clothing, wet boots, sandflies (ouch!) - these are the true wonders of the West Coast. It's a wet place to linger or hike in, and the mountains are severe. Peeping at the peaks and wondering at the mighty rivers of ice is sometimes all one can do.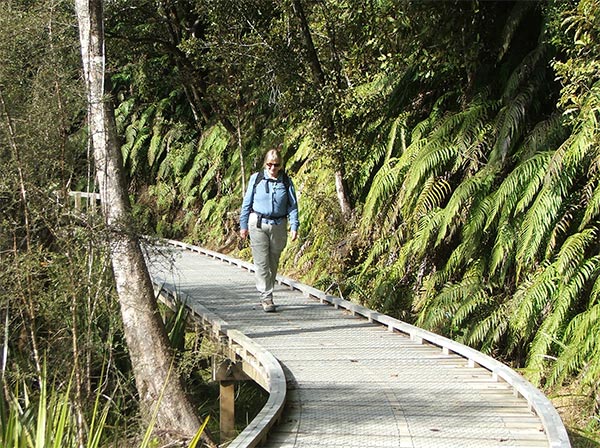 Lake Mathieson Boardwalk
Then again, if the walking tracks are well formed (such as that which circles Lake Mathieson), with smooth seats well-placed for reflection... And the viewing places are person-made, with sturdy balconies on which to lean and dream about ice caves and towers... No problem!
The so-called Glacier Country is a wonderful area to visit, for a day or a week - with boots, pack and crampons, or with your smartest outdoor jacket and the keys to a warm rental car.