On Top of Mount Herbert
My friends and I have just enjoyed an easy early-winter climb of Mount Herbert, which at 920m is the highest peak on Banks Peninsula. It's been a day of spectacular blue skies and brilliant blue-white snow, not too deep as to have been a nuisance.
Flat Spur to Mount Herbert Summit
By lunchtime we are in a forever-blue world on the summit, underneath an alarmingly bright blue dome sky. The hills just below us are smudged greeny-blue, while filters of purple and grey-blue cover the more distant ranges.
An Earth-Person
The Pacific Ocean far below, a hazy delphinium-blue, stretches out of sight, all the watery way to South America. Hmm... I can reaffirm that I'm definitely an earth-person. When I see a lot of sea I'm immediately thankful that I'm not on it. Sorry about that!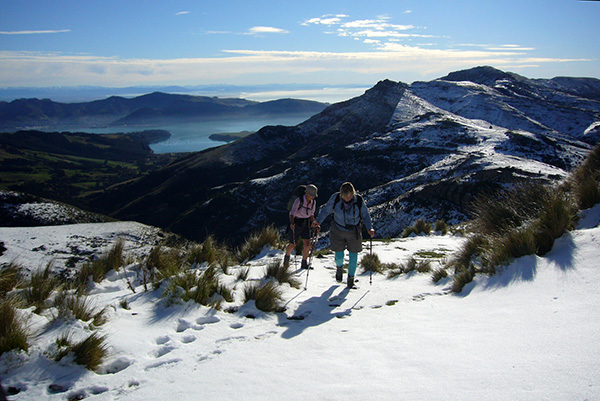 Up Mount Herbert
We stand on the summit by the trig, proudly taking our summit-photos. We acknowledge in a whisper the names of the distant Kaikoura mountains, so much higher than ours - there's Tappy (our pet name for Mount Tapuae-o-Uenuku). Then it's out of the wind to sit and munch a quick lunch. The winter sun is beautiful, but there's a cool breeze.
Mount Herbert Summit
I'm warm in my green top-of-the-range goosedown jacket. But I'm not so happy with my much beloved hiking boots. They've leaked a lot, and this has been an unpleasant and unusual experience for my toes. My socks (and the feet therein) are soggy and chilled. Hmm.... So it's back to old-school leather boots for snow days - and gaiters, to stop lumps sliding down into the boots from above.
Winter Parameters...
I'm reminded that the parameters for comfort and safety do change when winter hiking, even on a beautiful blue-skies day. Then the snow gives me a superbly cushioned downhill trip, and even my dodgy knees whoosh straight down without jarring. It takes half the time of the uphill plod. The route is long but gentle, finishing at the Port Levy road saddle (at 660m).
Snow Views by Port Levy Roadend
The photographs above feature the Monument (it's that pointy rocky outcrop) and the tiny dark red YHA heritage shelter. And, of course, just a bit of snow.
Morning Tea Stop
An Easy Sidling Route
In winter there aren't quite enough hours of daylight for me to climb Mount Herbert from sea level. And this easier, sidling route has the bonus of huge harbour views throughout, just over my shoulder.
This wonderful trip, on a wonderful early winter's day, took us just over five hours return - not too bad, considering the snow. Naturally there were a few stops to enjoy the view, have a quick drink, and take photographs.
This is a big part of hiking fun. After all, who wants to spend the day watching their boots leak? Not me!