Almost Up Mount Isobel
An almost-climb of Mount Isobel above Hanmer Springs - does this really justify a page of proud prattling? It's not the summit but the climb that really matters? Sensible hikers always have their reasons why an easy, scampering climb should be left incomplete.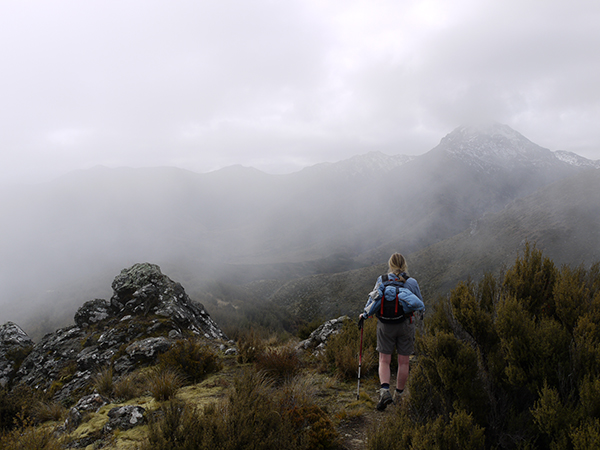 In the Fog
This one was easy to justify afterwards. All those clouds that rolled in just after lunch would have seen us on the last barren ridge. And we wouldn't have seen much else but our feet!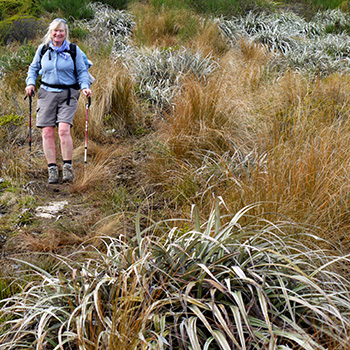 Hiking Through the Astelias
It's Not What You Do...
So, in the spirit of 'it's not what you do, it's the way that you try and do it' here are the photographs of our almost-climb of Mount Isobel. We stopped short on a 1195m knob, about 20 vigorous minutes from the top (at 1319m). We'll definitely go back to finish it another day.
But first, some trip details. It was nearly winter when we left the car at Jacks Pass. Oops - that seems to be promising a journey of epic proportions. No, no - this is only a day walk! From the pass the Mount Isobel track scrambles and meanders up through masses of Astelias, Turpentine bush, and smaller compact dull green Celmisias (rather rugged mountain daisies). This is sub-alpine scrub, and the textures are scruffy but gorgeous.
This is a rather heavily populated track by New Zealand standards. I could say that we passed several other groups, but more accurate to say that they passed us.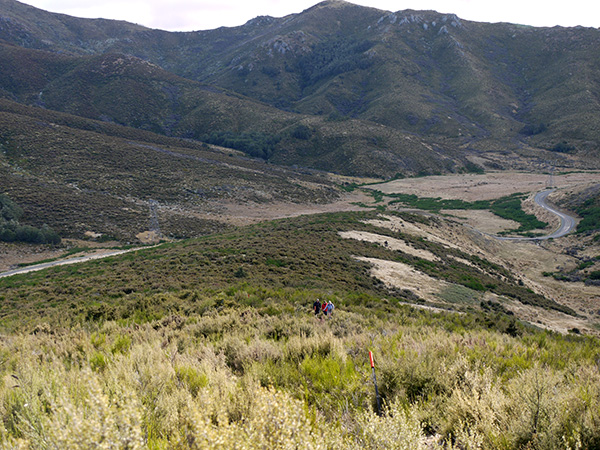 Looking Down to Jacks Pass
It would be a brilliant and speedy mountain running track - the terrain, though above the bushline, is fairly benign. Alas, my mountain running days are over - actually, they never really began. On my mountain-sides I've always preferred plodding heavily (up) and stepping lightly (down).
On or Off?
On this trip Non-Gardening Partner was the designated photographer, and was instructed to take at least two of each photograph of me. In one I grin at the camera with my sunnies on. Then I take my sunnies off and grin again. It's just one of those silly habits - the vanity of the mature woman, perhaps? He also has to take suitably discrete walking shots which flatter the back view of the Moosey shorts. I hope he's succeeded. Hmm...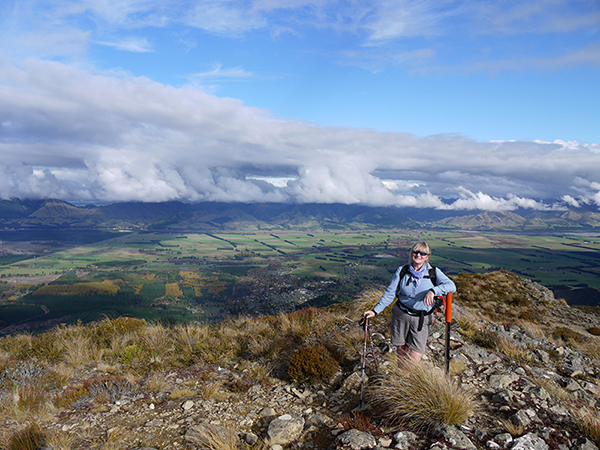 Head Gardener Above Hanmer
Starting from Jacks' Pass, Mount Isobel is an extremely comfortable climb. We left the car in cloud and got back to the car in cloud, with beautiful clear skies in-between - perfect timing, I reckon! But it's sensible to have visibility on these ridges. Otherwise why be up there? It would be like visiting an ornamental garden rockery in the fog.
A Network of Tracks
There's a network of other tracks and poled routes for the adventurous, wind and weather permitting. Best to check out a more serious site like NZ Tramper if you're interested. Hanmer is beautiful part of New Zealand to explore, and we'll be back.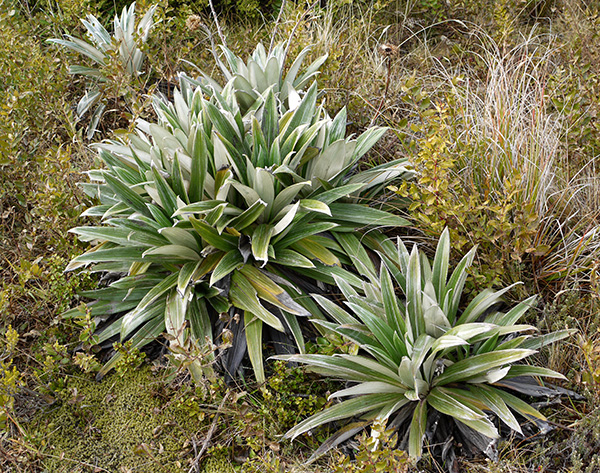 Celmisias