Hurunui High Country Track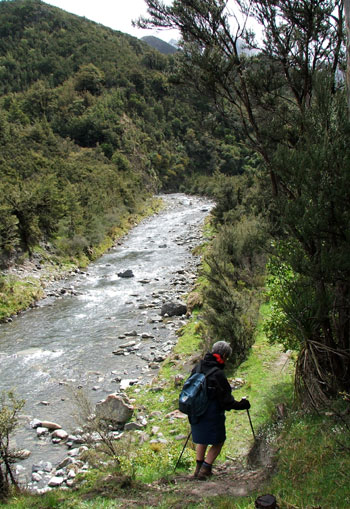 Along the River
I've just been intrepidly hiking with my friend in the mountains. We had a brilliant trip - three nights away on the Hurunui Track in the Island Hills High Country Station.
A Private Track
This is a private track with real New Zealand 'tramping teeth' (if that makes any sense). We walked through farm and beech forests for over thirty kilometers, happily warm in the changeable weather, Gore-Tex parkas with the hood occasionally up, shapely legs pumping...
Down spurs we wobbled, along ridges, sloshing through streams, wandering up beech forested valleys with mountains towering above...
Snow!
It's allowed to snow in a summer New Zealand southerly - and it did. Falling snow turned the landscape into enchanted Narnia forests, and the peaks around us were bigger and craggier than the Swiss Alps in a jigsaw puzzle picture. But remember - we had the right gear, and the right attitude, and our big packs were being carried for us.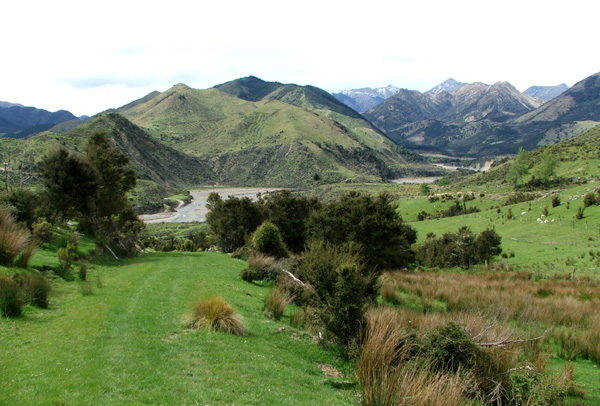 Near the End of the Track
Such a Variety
A gloomy Douglas Fir plantation, plus sections of scenic high country farmland, gave a variety of scenery for our sturdy-booted plodding. We walked over farm roads, sheep tracks, and through paddocks at the beginning and end of the journey. Anglophiles (like me) could squint and imagine they were in a distorted version of beautiful rural England, circa 1930s. Moo!
Accommodation
But back to the snow-in-summer. On our first day it bustled and flurried around, then a piece of brave blue sky would appear. There'd be a sweep of sunlight, then the air would fill again with enchanting light white and the mountain tops would disappear.
Great Legs!
We were giggly and entranced one minute - then we'd come down-to-earth, congratulating ourselves on being properly equipped, knowing that the hut was only two hours away. And weren't our legs working well!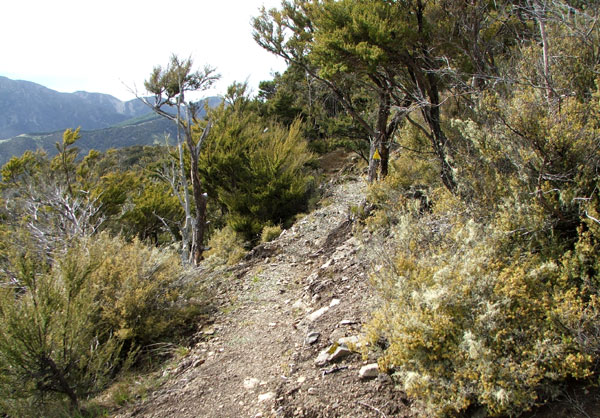 Rocky Path
On our second day the weather had more of an early summer feel - changeable, but with more visibility of the mountains and valleys around us. Reaching 'the summit' of day two was a pleasure, as we could linger and look. I should have done a slow camera dance and taken a 360 degree panorama video. Oh well - maybe next time!
View from the Summit
Warm huts, each equipped with books, solar powered hot showers, gas burners for hot coffee and cooking, and even a scrabble set - these are cosy 'perks' of walking a private track. And overnight gear can be carried in for you. Wine! Gourmet food! Proper pyjamas!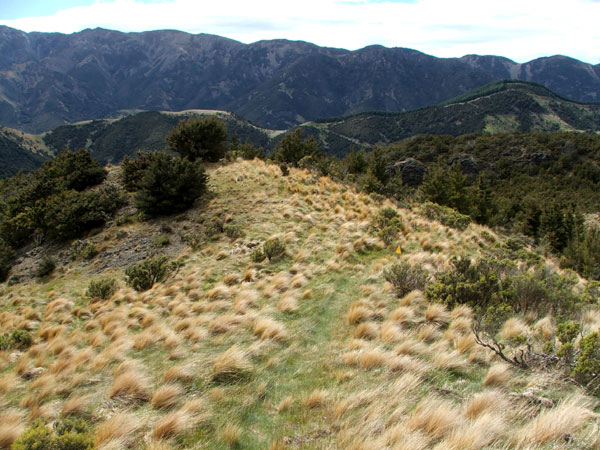 Tussock Spur
But the simple challenge of being alone in the bush, responsible for your own safety and happiness, is still there. And your legs still have to cover the distance - up, down, and along.
Back to The Beginning...
A Personal Adventure
The Hurunui High Country track isn't oppressively tourist-driven, so it becomes a personal adventure for all lovers of the Great Outdoors.
That is as long as you're well-equipped for all weather, have decent boots, good legs, are reasonably fit, don't moan about sandflies, and can giggle about rain or snow dripping down the back of your neck...
Snow-In-Summer
Make sure you've got good company, and maybe you'll enjoy a little snow-in-summer!