Mount Richardson
At 1049 meters, Mount Richardson is an excellent winter's day trip near Oxford (that's Oxford in New Zealand!). There's a satisfying loop track through the beech forest, over the tops, and down again.
Beech Forest
Loop tracks are scary, too. There can be no turning back, no thoughts of resting up on the saddle to munch muesli bars, while the other intrepids slog it to the summit and back. A track from Mount Richardson's peak across the tops is known as the 'Blowhard Track'. I wonder - is this because the wind blows up here? Or do track difficulties cause hikers to pant and puff a lot?
At the Top of Mount Richardson
On the day of our trip I'm happy to report that neither occurs! We are treated to crisp blue winter skies, beautiful views, and snow underfoot. We enjoy the living beech trees along the top ridge - we can all identify with their gnarled limbs and knobbly joints. Sadder are the dead bleached tree trunks (non-survivors of a forest fire some thirty years ago) which dominate the lower slopes. Regeneration underneath is slow - thirty years to reach waist high.
Snow
The snow makes the scrub and tussock grasses colour a rich burnished gold. We've coped well with large snow drifts on the track, and there is much snow covering the ranges behind us, too. One of our party (that annoying gardener who has recently joined a ladies' choir) booms out in her best contralto voice - 'Climb evvvvvvvvery mountain...'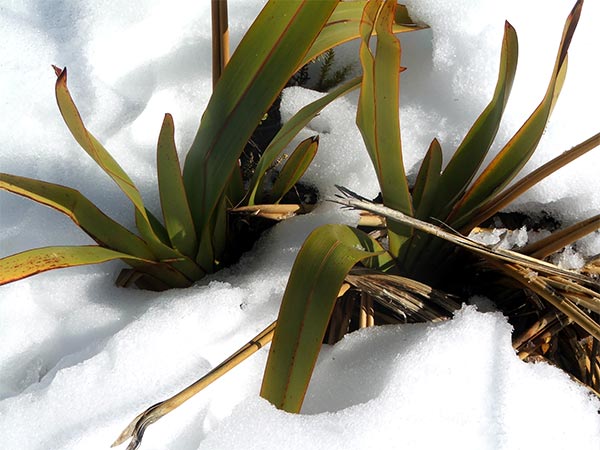 New Zealand Phormium
At the Mount Richardson trig station our trip leader offers around the traditional packet of chocolate mallowpuffs. Yum. In my thermal mug I am testing out a double strength frothy cappuccino, complete with chocolate shaker. Another yum! I am on top of the world (well, my world), and am madly in love with my country. I even love winter! Where would I rather be?
Hmm... An hour and a half later, still descending zig-zag through the forest, I realise the seriousness of this trip. I just have to keep going, sore feet and all. Perhaps I would rather be in an Oxford cafe (remember that's Oxford, New Zealand) sipping a latte and eating a lemon slice? A bellbird chimes somewhere up in the beech branches. One of my friends gives me their spare energy bar. Yet another yum!
Footnote - Make that Sore Footnote?
Track details might be more interesting than food and personal details! Oops.