Mount Alford
Mount Alford in the South Canterbury foothills is a great trip for intrepid day-walkers. Our trip takes place in early spring, on a perfect sunny day. Hmm... Should I really be at home working hard in my garden?
Up the Track
New Zealand trampers (hikers) are used to changeable, swirling weather systems. We start our trip to Mount Alford in sweltering heat, but our day packs are full every thermal and gortex layer known to man (and woman). The vast, windless blue sky is tempting, but not to be trusted - we are experienced, and it's only early spring. There will definitely be snow 'up there', and, unbelievable though it seems, cold wind.
A Hot Start
Walking up the initial four wheel drive track is annoying, but easy. Layers of clothing are flamboyantly stripped off, and we arrive at the morning tea stop (a repeater station) bare-armed and over-heating. How tempting it is to dump excess jackets and lighten the load! Hmm...
Nature's Rockery
Now the difficult part of the route starts. There's no track to the summit, so one simply scrambles and steps ones way up. And up. And up. Hebes give good hand-holds, and astelias are tough enough to haul up a tired body without their leaves breaking. Up we go, through the rough scrub and rocks, and over deep patches of snow. Three confident steps on the bright glaring surface, then - surprise! A tired, aching leg sinks down past the knee. Aargh! The agile members of the group simply bounce out. I tend to fall over, then attempt to retain dignity as I wriggle out slowly. I wonder about having four sensible climbing legs, like mountain goats do...
Windy and Exposed
All the vegetation above the bushline is short, wiry, and stunted in growth. Life for a plant is windy and exposed up here. It's the same for us visitors - back on go the layers of clothing, hats, thermal gloves and parkas too, at the lunch stop.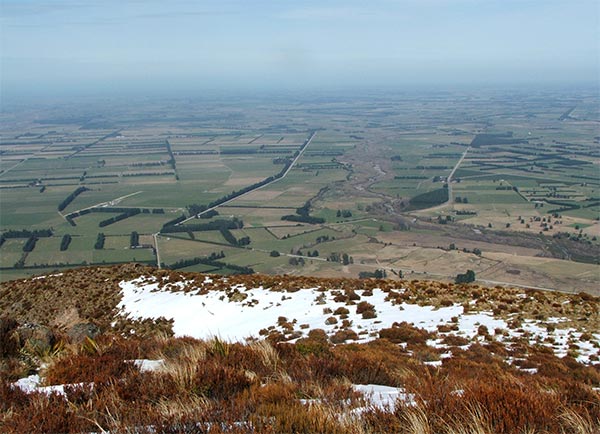 The Canterbury Plains
The top of this small mountain offers wonderful panoramic views, and the light plays distant tricks - can that hazy blue wash actually be the sea? My camera can't capture big landscapes, but I click at the distant Canterbury Plains just in case...
What a View!
The view is awe-inspiring, but I am tired. I feel small and very cold - I have absolutely every item of clothing on. And at the same time I'm elated - I'm so proud of myself. Thank you, life! Thank you, legs! Thank you, heart and lungs! Wow! My personal list of 'thank you's over, I remind myself (yet again) how lucky I am. Mount Alford - it is a little uphill to reach you, but I'm so glad we met!
Footnote
I cannot tell a lie. I got to within ten minutes of the very top! Oops. But it's the journey that's important, not the destination...