Primroses
Primroses are beautiful little flowering spring perennials - perfect to grow right near the edge of a garden bed, as long as there's some shade. I only have three colours at the moment in my garden - soft yellow, cherry red, and a smoky blue.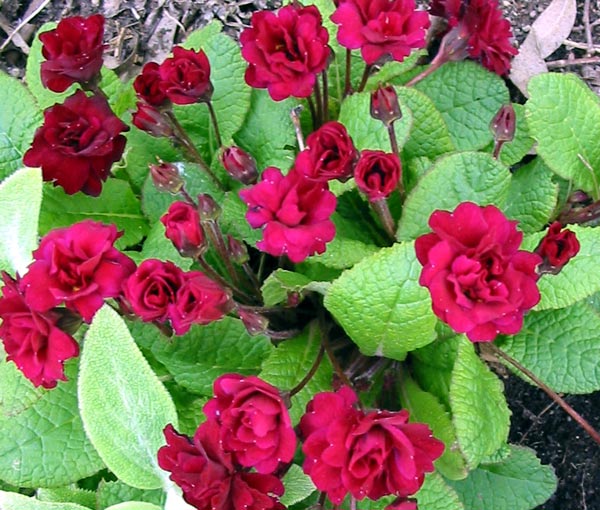 Cherry Red Primrose
A primrose has much more character and subtlety than a Polyanthus and the colours are much more natural. Designer polyanthus in shades of ice green and duck-egg blue with indigo veins are not really my style.
Yellow Primroses in a Pot
English Wildflowers
My perennials reference book calls these plants Primula and tells me that the gaudy show-off Polyanthus plants are cultivars derived from Primula vulgaris crossed with Primula veris. These are two species wildflower primroses which grow in England and Europe respectively.
So I can look into my English heritage to explain why I love the yellow primroses I grow! And luckily I am obviously providing the 'cool woodland conditions' they require - even though they are growing in a pot! Mind you, it is carefully placed in a shady spot, and does get watered frequently.
Barnhaven Primroses...
I often see different primroses in my mail order plant catalogues. Gardeners who only haunt the main nurseries for spring flower colour could easily miss out on these charming plants. Take Barnhaven Primroses, for example. The very name evokes all that is peaceful and pretty about the English countryside and English gardening. One spring I bought some to provide much-needed colour in the house and patio garden. Eugenie is my favourite - she's a subtle dusty blue, which matches the colour of my wise old gardening eyes. Primroses prefer cooler, partly shaded places, so the blues may need to be moved later on.
Eugenie - Blue Primrose
My plant label, lovingly filed in the Moosey office, tells me that the flowers are double and are able to withstand harsher conditions than the common single-flowered varieties. I'm thrilled with the delicacy of the flowers, so much so that I've returned to the nursery for more. Ha!
My research, as a responsible disseminator of gardening information, delivers me to their website. Barnhaven Primroses have been suppliers of hand-pollinated primula seed since 1935. And their nursery is in Brittany, France. Oops.