Catmint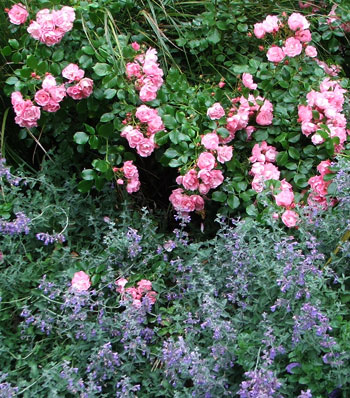 Catmint and Roses
Catmint, or Nepeta, is a lovely perennial - scruffy, scented, much loved by cats and gardeners. It's easy to propagate and equally easy to rip out if you get sick of it. And if you remember to trim it back you'll get a second flowering. And maybe a bit of a third, if your timing is right...
A Fluffy Edging Plant
Catmint is typically used as an edging plant, often to accompany a flowery rose or perennials border. In my opinion it's a prettier edge-plant than Lavender. The whole effect is much softer and fluffier.
The flowers are a pretty pastel blue, and just perfect with pink roses. Bees love them, and this is definitely another reason to grow it.
The foliage is a blue-green in colour, with very pretty, tiny leaves. As a perennial it's hardy, tolerant of droughts and well-behaved. Catmint won't ever get out of hand or spread far and wide. And the fragrance is wonderfully minty - as you'd expect!
Nepeta Six Hills Giant in the Border
Nepeta Six Hills Giant
I also grow a larger form of Catmint called Nepeta Six Hills Giant, which fills up spaces between the rugosa roses at the back of the glass-house. I like this variety very much - its tall flower heads mingle with the rose canes, but it doesn't cause too much shade.
I often make cuttings of this variety to use in new gardens if I want feathery bulk. And if I remember to crawl into the undergrowth and trim it back in late summer it re-flowers for me.
Naughty...
My original piece of Nepeta Six Hills Giant was a small cutting I took from the perennial border in the local botanic gardens. Oops. Was anyone looking? I was a bit naughty, but the plant wasn't particularly rare or difficult to grow. And I only took the tiniest piece! You can see I've forgiven myself...
Catmint for Cats
Of course I can't talk about growing catmint without mentioning the Moosey cats. All the cats love to lie in the low growing catmint which I grow around the house patios. They sometimes nibble it, sometimes sit completely surrounded by its tantalising smells. Then they'll build comfortable looking cat-nests to sleep in during the warm summer months.
Beautiful B-Puss by the Catmint
Looking at the blue flowers close-up you can see delightful patterns of differing colours - the strong blue of flowering cat-mint is just beautiful. And blue is my favourite colour, after all...
Catmint Close-Up