Gerbe Rose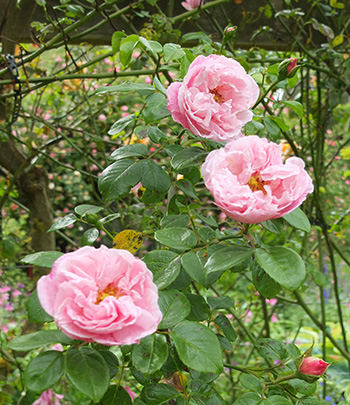 Pink Gerbe Roses
Some pink roses puff out their fluffy chests and push themselves into centre stage. 'Just look at me!' they shout, these pink prima donnas. The Gerbe rose is a pink climber (actually a Wichurana rambler) whose performance is rather restrained.
A modest bloomer...
As a consequence, in my garden it is hardly noticed, and not often photographed. It just blooms modestly with its pretty pale pink flowers while other rose show-offs are grabbing my attention. How unfair is that? It's not the most spectacular rose, and does have a tendency to black-spot, but never-the-less it's worthy enough. Put it this way - I haven't dug it out and dumped it on the bonfire yet...
I grow two Gerbe roses in the gardens by the back house lawn. One sprawls along the side of the pergola, another stretches along the nearby fence. They are so pretty when those leaves are fresh, green, and healthy! I bought them from a local rose grower, purely because they had pink flowers.
Gerbe Rose on the Back Fence
According to Peter Beales' web-site this is a rare rose, and he describes the blooms as 'muddled' I like that! Another nursery talks about the 'abstemious' aroma. I must admit can't smell much at all. David Austin Roses gives it a 'poor' rating for disease resistance, but others disagree. Oh dear. Poor, confused rose!
Pink Gerbe Roses
It was introduced in the year 1864. Or 1904, depending on whose information you value - a hybrid Wichurana, bred by Fauque & Fils.
The Gerbe rose produces lots of short stubby flowering stems from its long, stiff canes. So it's perfect for a fence-line, where the no-nonsense pink blooms can be seen and appreciated. I don't run a good rose-spraying regime, so it's a pity about the black-spot.