Ghislaine de Feligonde Rose
Ghislaine de Feligonde Roses
Oops. When I first wrote about the climbing rose Ghislaine de Feligonde I was rather rude. She was 'too small', with 'budget growth, budget sized blooms'... What an impatient rose gardener!
A French Beauty
She's a French beauty, bred by Turbat in 1916, and is said to be hardy and extremely disease-resistant. I've planted two, with irrigation drippers, on an archway in the Hazelnut Orchard. It's an area with loads of sunshine and fresh air, where no rose should ever dare expect to be sprayed. Of all the roses here I'd say she performs the best. She never needs spraying.
A Good Report
The catalogues I chose my climbing roses from gave her a good report - using words like 'vigorous' and phrases like 'occasionally blooms in autumn'. Well, well, well! I do so agree. My Ghislaine de Feligonde roses are always covered with the most beautiful clusters of flowers. In fact, some seasons she has to be severely pruned at the side. She'd grow wider than she is tall, if I'd let her. A rather female characteristic, perhaps?
I like the slightly dishevelled look of her flower clusters, the texture of her leaves, and the mess of her colours - one bloom apricot-pink, the next soft yellow, pale cream, orangey-yellow, pale buff, or white. As you can see from her photographs, some of the flowers are deeply apricot in colour. This particularly happens in her autumn blooming.
Ghislaine de Feligonde Roses
And I'm sorry for being so 'sizist' in my initial comments. Small is definitely beautiful, in Ghislaine de Feligonde's case. And in any case, she's not that small! What was I thinking?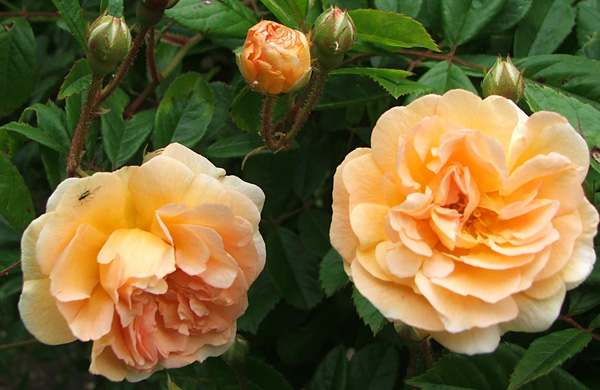 Ghislaine de Feligonde Roses
Ghislaine de Feligonde definitely rates five-plus rose stars from me. Just remember to give her space to fluff out with those gorgeous flowers.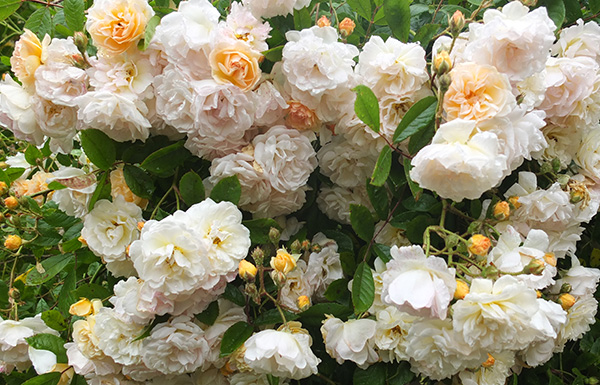 Ghislaine de Feligonde Roses