Santana Climbing Rose
Santana
One of my best buys in the category of budget rose specials is a healthy climbing red rose called Santana. I've enjoyed it for years in my garden without giving it much thought - or even remembering to say thank you!
Rose Credentials
But have only just looked up its credentials... Wow! Check out these adjectives - 'striking', 'exceptional', 'treasured', 'ravishing and exciting'... Sounds like a rose merchant is trying to sell me something!
To give Santana credit it's a healthy, large, beautifully red and incredibly easily forgotten rose - for all the right reasons. Nothing terrible ever happens to its leaves, or its canes. No aphid ever seems to alight on its tender new shoots. And not one spot of black or one pustule of rust has ever been found on its glossy foliage...
Santana never falls down in the wind, or sulks at the weather. So when the rose merchants say 'healthy' - they're absolutely correct! Think of Santana as one of the most stress-free climbing roses you'll ever share your garden with.
Santana Roses
My Santana grows well on the pergola on the main route to the gardens over the water race. Every morning I walk underneath and past it to feed the hens. I've not noticed fragrance, but this rose does seem to flower forever.
Best Red Climbing Rose
To call Santana striking, exceptional, treasured, ravishing and exciting might be a tiny bit of an exaggeration. But it's definitely the very best climbing red rose in my garden. And I won't shame any of my other inferior red climbers (for example, Dublin Bay and Parkdirektor Riggers) by naming them. Oops...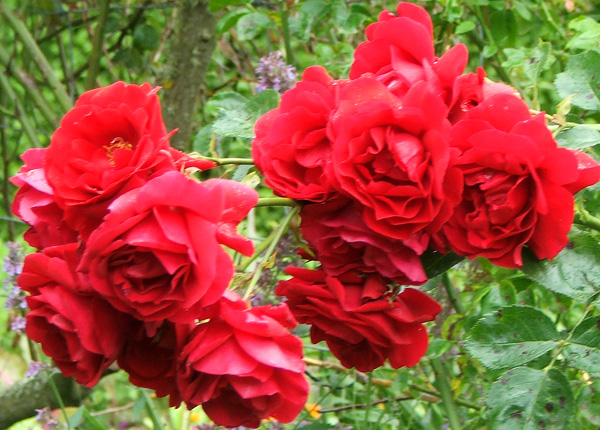 Red Rose Santana