Rosemary
Rosemary
Would it be rude to describe Rosemary as a 'work-horse' in the garden? My Rosemary shrubs are just that - they work hard filling their space, gift their beautiful blue flowers freely in spring, and never complain. But is she a shrub or woody perennial herb? Depends how big she gets, I reckon!
Rosemary's life in my busy garden consists of sun, bees, and being pruned back anytime I remember! And I should remember her more aften - after all, 'there's rosemary, that's for remembrance: pray, love, remember.' Of course the needle-like leaves are often used in the Moosey kitchen - especially when roasting a leg of spring lamb. I also pick pieces for flower arrangements for the house. She is a beautifully aromatic shrub which enjoys my slightly sandy, free-draining soil. But definitely a sun-lover. I've tried planting dwarf trailing types in places that have been too shady. They've not thrived at all. And eventually so much of the shrub has died that I've pulled them out.
Rosemary
Some gardeners might think her scruffy, but not me. Of course the bees love her flowers. And what a beautiful name - one of the best!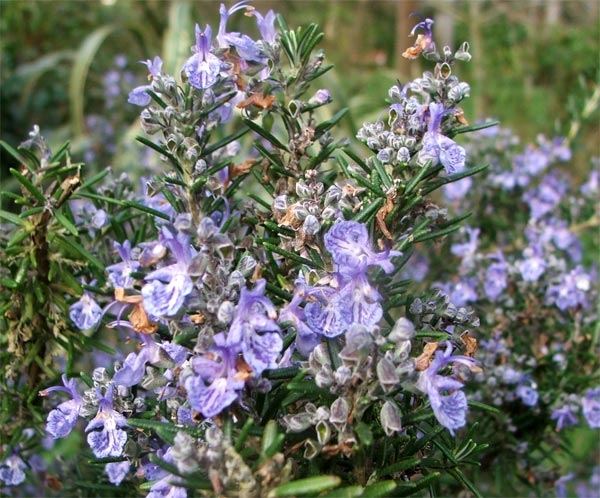 Rosemary
When I build my brick Herb Spiral I decided Rosemary could be the crowning glory, occupying the very top compartment. So I greedily planted three shrubs, wanting instant fill. I think that one might have been enough! Oops.