Glass-House Garden
In the winter of 2006 I had a brilliant garden idea. The Glass-House would be much happier with a proper garden embracing it. It would be flowery and colourful, and feel connected to the water race nearby. What a caring, thoughtful Head Gardener! The following photograph was taken in 2011 - the lawns hadn't been mown, sorry about that!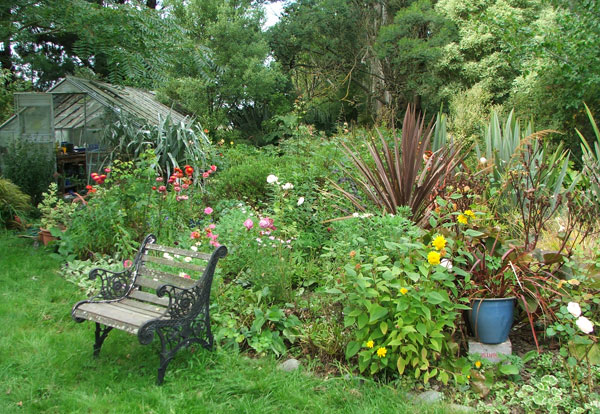 The Glass-House Garden
I shifted all the grass off to another location, and popped in plants and perennials which I already had. Buckets of daffodils were dug on at the edges, and I spread Honesty seeds around. Economical, and a great example of recycling. It also became a haven for other people's unwanted roses - and there's still a bit of room, just in case....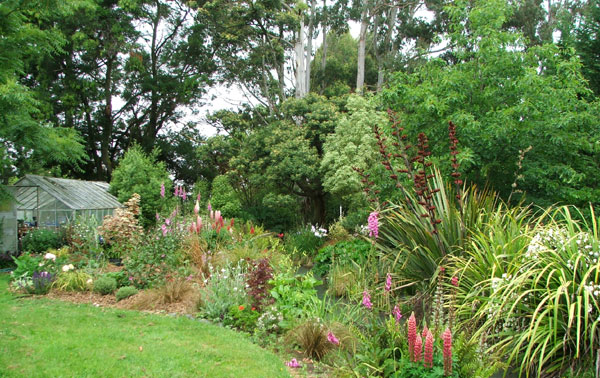 The New Glass-House Garden - Summer 2007
There's always been a garden on the 'other side' of the Glass-House. Plantings started off small, but it's now a mess of flowers and foliage - there's hardly room for the small path. My rugosa roses live here.
Glass-House and Neighbouring Garden - 2003
The giant flax flower in the foreground of this photograph comes from a huge Phormium Tenax growing by the water race. You'll see a patch of lilac phlox (that I alternately love and hate) in the front of the border.
Glass-House and Neighbouring Garden - 2000
Hyacinths, muscari, and daffodils used to brighten the edge of this border in spring. And they still do...