Flowers behind the Glass-House
Red Dahlias
Years ago some red dahlias were dumped in-between the potting tables behind the Moosey Glass-House. They decided they liked it here. No problem! I did mean to plant them back in the garden, but... Then a soft orange dahlia appeared, from nowhere. The trouble is, I forget to take them back into the garden in spring and plant them properly.
Actually, I often forget to plant dahlias out properly until it's too late in their growing season. And so the glass-house reds have established themselves, and clumped out.
Their flowers always take me by surprise later in summer - I obviously don't do much work in the glass-house at this time of year.
A few years ago there was another surprise. A soft orange dahlia just appeared, growing to one side of the table. Now obviously I've put it there, but I have absolutely no recollection. I can't really blame the bees for this one. It's obviously been allowed to stay.
Autumn Dahlias
And here's another delightful dahlia which I must have dumped behind the glass-house then forgotten to replant out in the garden - a Moosey bee hybrid.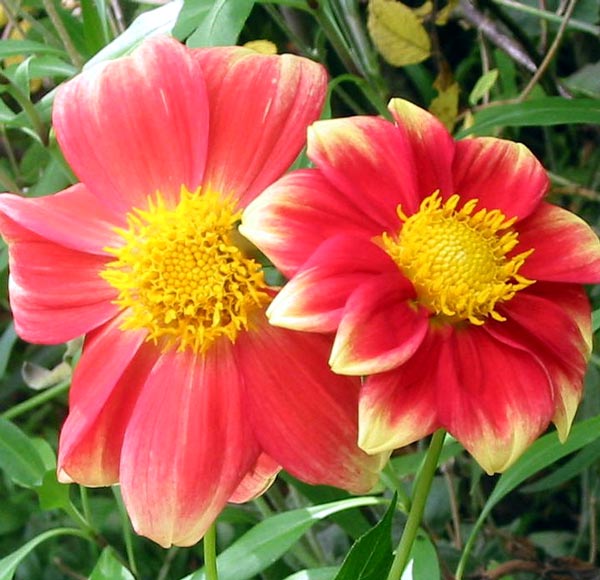 Red and Yellow Dahlia
I grow plain red and plain yellow dahlias, and it's amazing that such a beautiful flower has been created from them. Lovely bees, thank you so much!
There used to be a riot of colour in Autumn as the sedums and chrysanthemums planted in front of the glass-house door erupted in colour.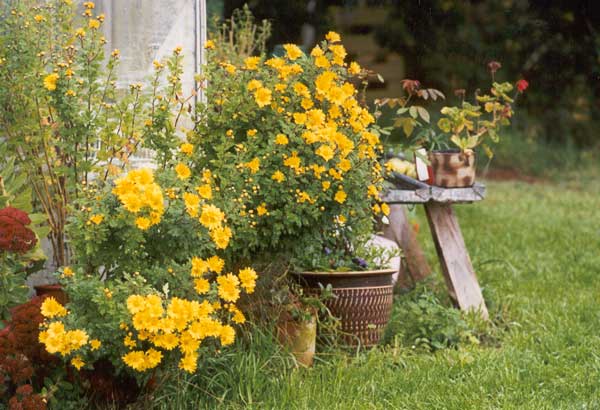 chrysanthemums by the glass-house
When the sedums (which I'm sure are the variety called Autumn Joy) are in flower I have to run the bee gauntlet to get in and out the glass-house door.
An Early Photograph...
This is an early photograph, taken before the path around the glass-house was dug out. The sedums are still there, but the yellow chrysanthemums, sadly, are long gone.