Shady Garden Bench
Wattle Woods Garden Bench
The Wattle Woods garden bench, deep in the shade of the Wattle trees, is a place for calm meditation.
It's surrounded by mass plantings of Renga Renga, Japanese Iris, and other foliage plants. In spring a Camellia curve provides beauty and colour. Overhead the huge trees give welcome shade in summer.
Secret Garden Seat
It's a secret seat, peaceful and quiet when the wind is calm. Humans can rarely find me here. But my cats know that I sit here in summer, and it's never long before one of them arrives. And of course the dog just uses his nose!
The garden bench itself is just a slab of heavy Macracarpa wood resting on two towers of bricks. It's sturdy - well, sturdy enough for one gardener and a couple of cats. The bricks may get a bit wobbly from time to time, but that's easily fixed.
A Permanent Garden Bench
For such an inherently moveable garden feature, this bench has always been in this particular place in the Wattle Woods. Paths and plants have come and gone, trees have even blown down in winter snow storms, but the Wattle Woods Garden bench has been a permanent fixture - it's stayed where it was first put.
The Wattle Woods Garden Bench
It has definitely withstood the tests of time (and the random whims of the Head Gardener). It's a Moosey Garden heirloom!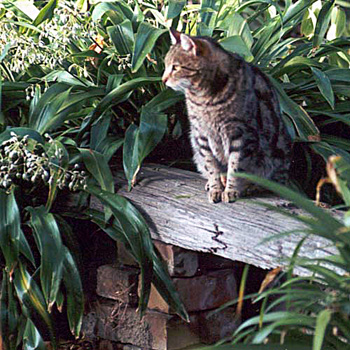 cat on the Wattle Woods Bench
Birds Beware!
Benches attract cats as well as tired gardeners. But low flying birds had better beware!
Sifter the cat has ulterior motives for sitting on this garden bench in the Wattle Woods. The trees are home to a large group of fantails, and these birds hover near people, hoping for insects to be stirred up in the air. Fantails give the impression of being rather too tame for their own good!
The birds are usually far too clever for any of the Moosey cats though - they'll duck and dive and swoop around, but never too close. Sometimes I think they're just teasing.
Footnote
Sifter the tabby cat is no longer with us. But I certainly took a million and one photographs of him posing in the garden - he can definitely never be forgotten.