Rugosa Roses in the Wattle Woods
My first 'collection' of rugosa roses was planted early in the creation of the Wattle Woods gardens, just down the slope from the Glass-House. A small path wiggles through, and there's a rickety archway to keep the roses from falling over.
Rugosas by the Glass-House
No labels, no names, but a good many guesses as to their names. There are other assorted roses planted in here to keep them company - cutting-grown red Dublin Bays, and some bushes best described as 'sturdy country roses'. A large and extremely happy Agnes (one of the most beautiful, a yellow rugosa) lives in her own space at the far corner of the Glass-House.
Pink Rugosas
The combination of whites and pinks makes a very pretty picture. Each shrub has the space it requires, and I only prune out the dead canes. Oops - that's when I remember.
Watering, if required, is easy. I have a hose in the Glass-House, and all I do is angle it out of the glass roof. And the leaves are a brilliant sight in autumn as their colours turn golden red. Rugosas certainly earn their keep my four seasons garden!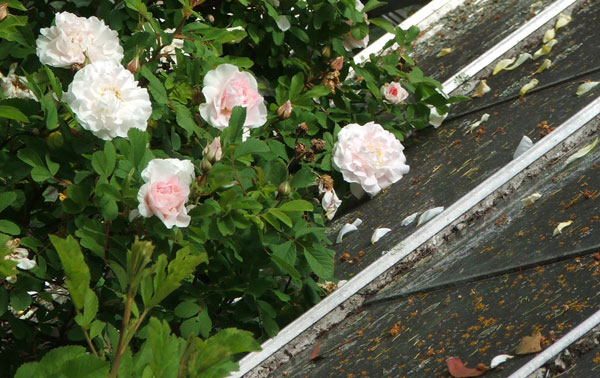 Rugosa Roses by the Glass-House