Introducing the Driveway Garden
The Driveway Garden represents my first great digging effort, transforming the strip of rough patchy grass between the flowering cherry trees along the driveway. I remember it taking many weekends, and I wondered what I'd started!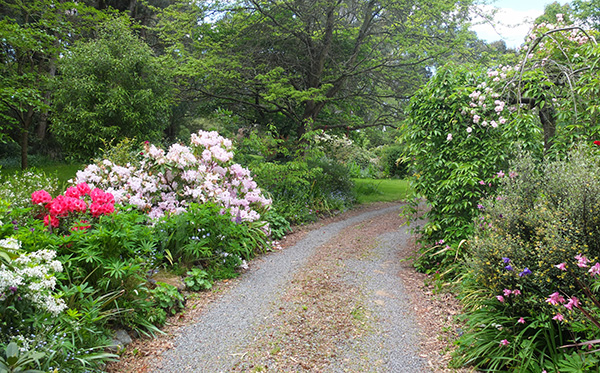 Gardens Along the Driveway
The sheep fence separating the drive from the Frisbee Lawn still supports my first climbing roses (Cecile Brunner and Alberic Barbier), both of which are still thriving. It's the same story with and my first proudly cutting-grown Clematis Montana. Oops - I had no idea it would turn into such a big bully. Every three or four years I chop it down ruthlessly. Then the prettiest spring pink blossoms appear, just when the flowering cherry trees are finishing, and I relent.
After some years I added a balancing second border along the left hand side of the drive. Even later the removal of overgrown Cotoneaster shrubs made space for a large circular spring garden. Here I've been able to plant rhododendrons, maples, a Cotinus, and other choice shrubs.
The Driveway Garden in Autumn
The gaps are filled with self-seeding plants like white variegated Honesty, Nicotiana and Cosmos, and the obligatory yellow daffodils. Of course there are also a few coloured Phormium hybrids for all-year foliage.
Down the Driveway - from 2000 to 2009
The pine and gum trees in the Hump (an old sandhill which runs the length of the property) were the original shelter belt, planted to block the rough dry nor-west winds.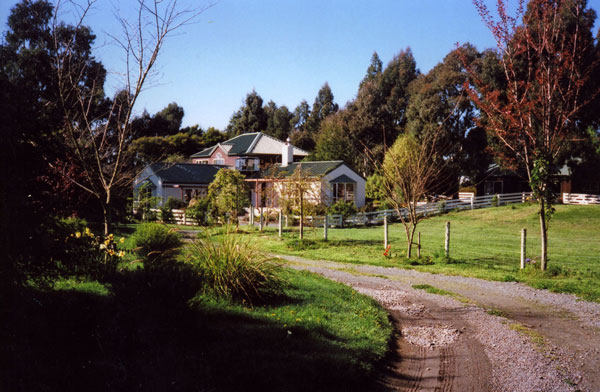 The Driveway - Archives, 1996
In my early gardener's mind this area would have made a perfect deciduous woodland with spring daffodils and bluebells, rhododendrons, and cute little paths. But nothing except Pittosporums wanted to grow underneath the pines and gums. In the winter of 2018 most of the huge trees were felled and cleared for firewood.
Now the Hump Garden is evolving, and growing, and ever expanding. It's a riot of flower colour in summer. Those gloomy days of pine forest are long gone.
Part of the Hump Garden
Dotted around the Driveway Lawn are wooden garden benches to rest and relax on. They're in shady spots, and I've painted them bright colours - for winter interest, you understand.
Spring and Autumn
Spring and autumn are possibly the best times to enjoy the Driveway Garden's shrubs and trees. Shade in summer limits rose growing here, but I'm trying out some tough rugosas, and I'm growing an old-fashioned climber up the big Locust tree. Go on, bloom for me!
I hope you enjoy your visit. Make sure you wander over the lawn, and find some of the hidden paths. You'll likely meet one of the house cats or a dog on the driveway, waiting patiently to go for a walk. Gardening is soooooo boring for dogs!
Cat and Dog in the Driveway