I wish garden-time would go a little slower!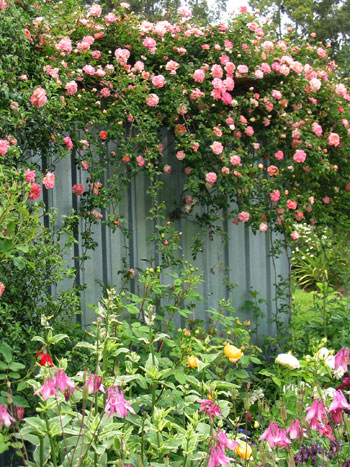 Flower Colour
I wish garden-time would go a little slower! Now the roses have started to bloom, and there is flower colour everywhere. I'm in a bit of a gardening panic, as I keep discovering new plants, and far too many weeds.
Saturday 6th November
Right. It's the first November weekend, and I have a long calm day to catch up. All the weeds in Middle garden will be pulled out today. All the new flaxes and hebes will be planted, as will the new roses.
I will be serene, surrounded by an aura of quiet yet deep accomplishment. The panic attacks (Weeds! New flowering plants! Things I should have done last week! More weeds!) have to stop - a sense of measure is needed. Perhaps I need garden help, too? I could delegate the rubbish burning, or the rose spraying. I will even wear gardening gloves!
I will be back - not too soon - with a HUGE list of tasks completed.
Sunday 7th November
Hmm... I didn't quite last the distance yesterday. I'm still puzzled - it's as if I've lost a month in the flowering progression. There's an extra mythical month in the Moosey Garden (southern hemisphere, remember) between September and November, as well as the actual month of October. Either this, or I've got the iris flowering times completely wrong - I thought 'it' went aquilegias-irises-roses then daylilies. The first daylily is already blooming! This means that yellow has returned - and it seems only a week ago that the daffodils were holding their Festival of Yellowness.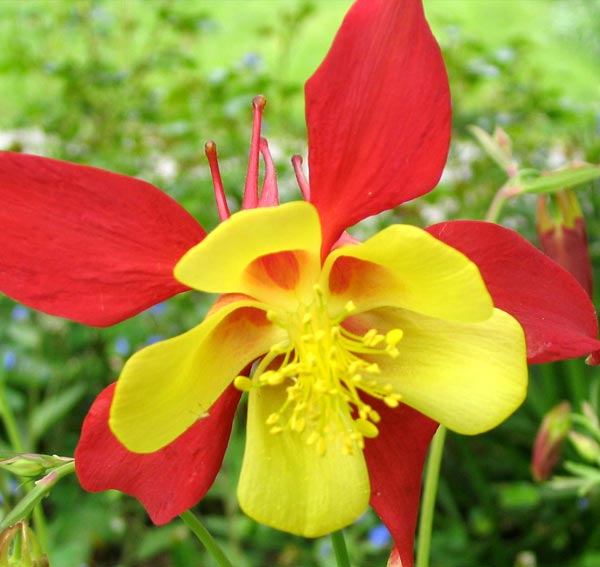 Red and Yellow Aquilegia
Enough babbling - let's talk about the reality of yesterday's gardening session. I did do one thing well. Some would call it weeding, but no! - It was far more specialised than mere weeding. Better to call it clearing - on a grand scale, I might add!
Honesty :

I really do love growing Honesty. And it grows so well in spring underneath the gum trees, with no watering.
I refer to the start of the annual (I can't really remember doing this last year) Honesty and Large Forget-Me-Nots Clean-Up. Only last week, surely, there was a beautiful purple haze in the Wattle Woods, and the little blue forget-me-not flowers were on little stems, leaving space for neighbours.
Today's first job is to finish this clean-up - then (oops) the flaxes which have been soaking in the outdoors bath for a week can be planted. Their destination is the Wattle Woods Wriggling Stream - yes, it still lives to wriggle another day.
Blue Aquilegia Close-Up
The ex-owner of these flaxes is visiting this morning, and I am torn - should I rush out now and plant them all, or perhaps plant one and hope she has lost her numerical precision? I could always fib (shock! horror!) and claim they are already planted - on the back paddock fence...
Too Tired
Seriously, today has to be better than yesterday. I ended the day feeling just as overwhelmed as I started - in fact I seem to be more confused. And I got too tired. Those irises are to blame!
Yellow
Phlomis
in the Early Summer Garden
And last week's weather - those three days I was AWOL were hot, hot, hot - hot enough to trigger a thousand roses and a hundred daylilies into bloom. I promise that when I return later today I will have transformed into a calm, serene optimist. And I'll ignore those jolly irises.
Late Mid-Day...
What a lot of twaddle up there! Less garden talk and more garden action - which is what's been happening for the last four hours - I've planted flaxes, pulled out more Honesty - I've even weeded the side of the Pond Paddock Garden and cleared the path through the Apple Tree Garden.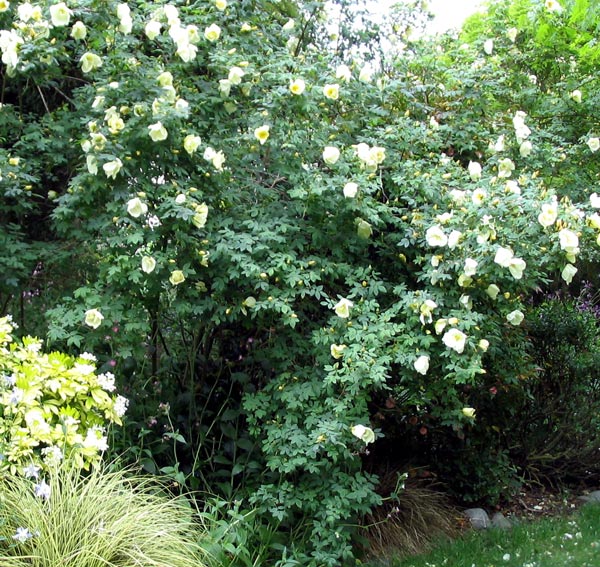 Fruhlingsgold Rose in the Apple Tree Garden
Is there no limit to the achievements of this wonder-gardener? - OK, so the heat has driven me indoors, but I have kicked some gardening butt! I have even watered my glass-house seedlings TWICE!!
Rose Blooming Report No. 1
Mutabilis
Othello (buds only)
Fruhlingsgold (see above photograph)
Assorted Rugosas (particularly Agnes and Scabiosa)
Moonlight (climbing the apple tree, must get a photograph)
Monday 8th November
Late yesterday we went to visit our new puppy - a red border collie named Rusty. He is the same colour as Jerome the cat's tummy... is this symbolic? He comes in two weeks time. Oh joy! He is absolutely beautiful.