Sydney Holiday 2 - The Country
Our rural New South Wales country adventure starts in a rental car stuffed with food and tramping clothes, zooming over a toll road and into the Blue Mountains west of Sydney.
Our destination - a small cabin, solar powered and log-burner warmed in the Turon River valley. It's off the highway from Lithgow to Mudgee, twelve kilometres down a reddish dirt graded road (passing through herds of hopping kangaroos and smaller wallabies).
Fog in the Turon Valley
We spent three peaceful days and nights here in the solitude of the Australian bush. My diary is full of dribbly moments of self-analysis (e.g. I decide that I have been too long in the company of chooks, cats and a dog, and as a result have nothing sensible or interesting to say out loud in human-company). There is also moaning (e.g. my boots which I love passionately hurt my toes - a tragedy!). So do gardener's feet get bigger with age? Humph...
The Turon River has a gold-mining history - how different the ambience would have been in the 1850s! Then five thousand Chinese miners lived and worked here, and we walked along the remains of a long, long water race they had constructed, following the twists and turns of the river. There were several grave sites built up with rocks, with curved pagoda-like corners.
The Turon River Bed
Now all is silent, apart from the soft steps of eco-tourists (and horse riders). The river is broken up into large disconnected pools, with huge She-Oak trees (Causarina) growing in the gravely bed. The bush above is delightfully light and airy - rocky underfoot, with see-thru gum trees and a grass which I will confidently claim is a type of Lomandra.
One day we did a long walk on a bridle path along the river trying to reach the 'Turon Gates'. It sounded a hobbit-ish destination - I wondered about The Lord of the Rings filmed in the Australian forest...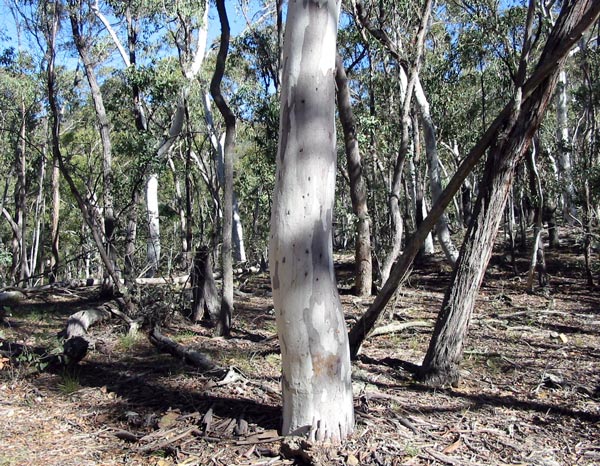 The Australian Bush
My holiday was designed to be garden-free, but while watching a pair of bright red rosellas (small parrots) in the high gum trees, I think I solved the problem of my pathetic wriggling stream come water feature. That same day we did a car tour around Mudgee, peeping at gardens - well, whatever we could see from the car. That was the strangest day of all - I saw lots of conifers (why? - hmm...), rock gardens (fair enough - using the natural local product), statues of kangaroos (fair enough - a real Australian symbol), and rows of plants in pots on verandahs (again fair enough - water restrictions)...
House with Conifers near Mudgee
Of course we also peered at rock escarpments and huge deep valleys from tourist lookouts. We stopped to take pictures of fog - and we almost stopped at a famous garden in Leura. Then off we zoomed, down from the mountains back to Sydney city - the end of our wee adventure.
Footnote
The day after we left the Blue Mountains had a dumping of snow - and ice on the roads!