Still busy...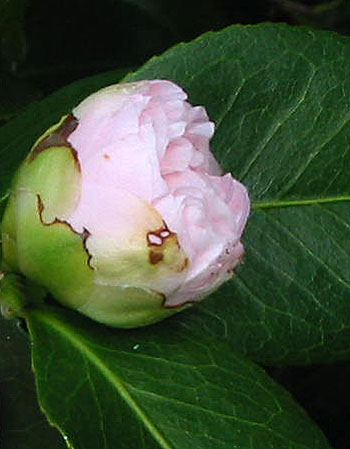 Pink Camellia Bud
I am still busy clearing and burning, and still the weather stays fine. In two days time I will be on holiday in Sydney - I'd like it to rain while I'm away! Hopefully the early Camellias will be flowering when I return.
Thursday 8th July
Ha! The baby pink Camellia is starting to flower, and I hopefully have a decent photograph, in focus! No wonder I usually miss this flowering shrub - I had no idea it burst into bloom so early in the year. I am doing weekly bud inspections now of all other Camellias in the garden - determined to compensate for the serious lack of Camellia photographs.
The little blue crocuses are looking beautiful in the patio garden - perilously close to a favourite cat digging spot, enough said! The small stream has me puzzled - it's all very well to 'experiment' (Stephen's word) but I don't know why the water isn't getting further than halfway. Those first heady days where my little end-pond was full and I worried about flooding the Pump House seem an age away! We had overnight rain - now I dread to think what shape the stream is in as a result!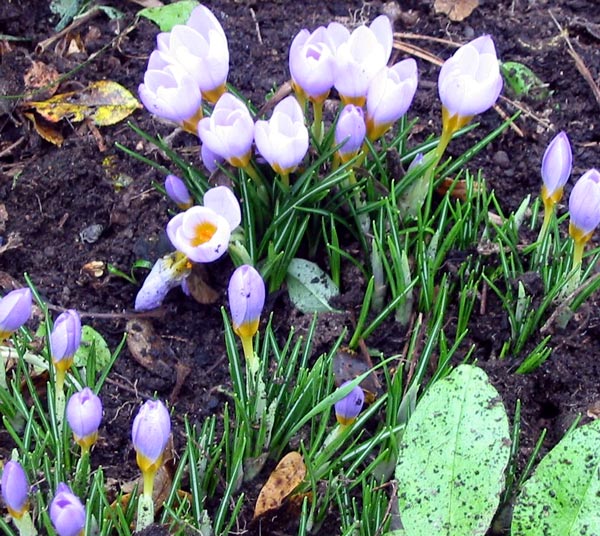 Pale Blue Winter Crocuses
Today I have had most of the day off - it's 3 pm and I've just returned home. I reckon I can put in two hours of clearing before darkness and old-lady stiffness set in. Enough chatter! I have one more gardening day left after today - then we fly to Sydney - so I will stop bleating and get working.
One and a Half Hours Later...
Hopeless. It's taken me this long to fill, wheel, and burn just three barrowfuls of rubbish. Three! What sort of work rate is this? And there is a complete malfunction of the small stream (i.e. no water at all) - a sad end to the day for this tired grumpy old gardener. Humph...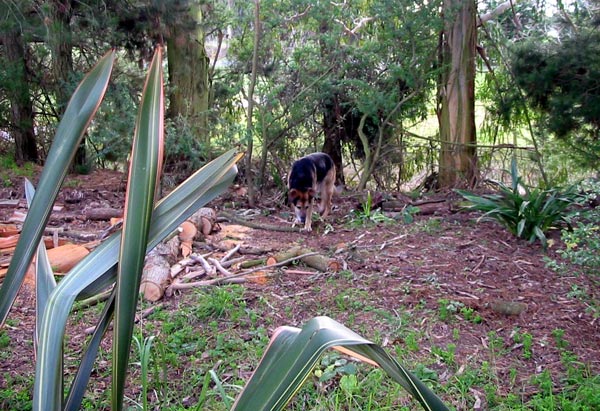 Taj-Dog in the Hump
Friday 9th July
Sorry for moaning yesterday. I've now had a good night's sleep and my cold doesn't seem so bad. This morning I plan to be happy and contented and positively busy in the garden - this is my last day before the Sydney Holiday.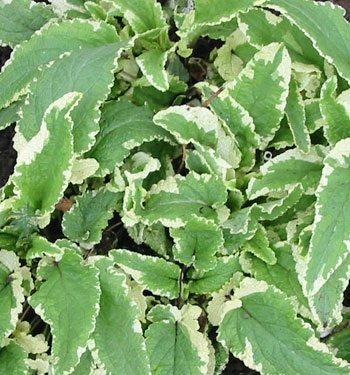 Scrophularia
I can sort out the stream problems when I get back. I can also finish clearing the Hump. This October we will have been at Mooseys for TEN years. Accordingly parts of the Hump haven't been touched at least for ten years - so why am I getting all annoyed about this? Do astrological star-signs (e.g. virgo) affect one's attitude as a gardener?
Shift and Divide?
I think I might wander around with shovel and shift and divide plants - thus getting in touch with the inhabitants of my garden. Lately there has been too much slash and burn and not enough nurture. Mind you (a touch of reality) there was a slight frost last night...
Later...
I am back. Another day, another fire, and you can hardly tell the difference in the Hump. I am inside for rest and refreshment - this will probably be my last diary entry for a week. I'm now going to make a hot cup of tea and sit outside in the sun to read. I have jolly well done enough work this week.
Farewell to the Moosey Garden! Be patient until I return, and don't get too weedy!