Lots of gardening work to do...
There are still five gardening days left in July, and lots of gardening work to do and to write about. So I am allowed to start a new page (things I haven't yet done from Sunday's list can now be subtly forgotten, hee hee).
Tuesday 27th July
Yippee! - My garden year is going really well. Take yesterday, for example - I was pottering and clearing in the Hump - trailblazing, almost - with three chooks scratching in my wake, the dog snuffling around, and Jerome the cat watching progress. It comes pretty close to complete gardening happiness.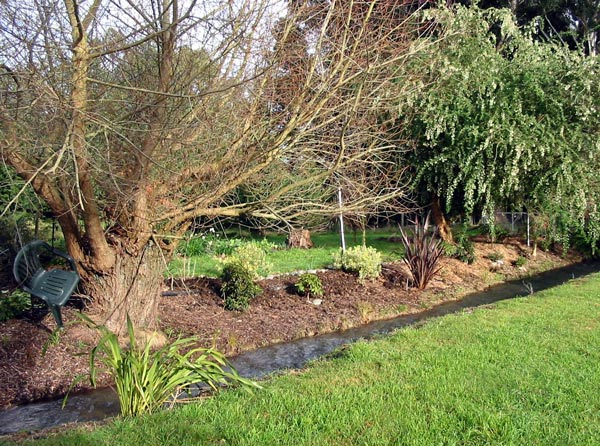 Flowering Tree Lucerne - Winter by the Water Race
I hope today will be the same - the weather is mild, and I could really try to finish the end of the Hump. The chooks are fat and puffy waiting on the decking. Chook company - I'd never have realised how good it would be - what a sad old lady gardener! I will be back!
Important Declaration
I am strictly NOT ALLOWED to purchase and plant any rhododendrons in the end of the Hump. It gets TOO DRY in summer. I must not be seduced by its moist fresh late-winter atmosphere.
My First Cup of Tea Stop - Unbelievably Four Hours Later!
Oops - I decided that I'd shift the standard roses before I went into the Hump for what should have been the last clearing session. But one thing has led to another - breaking up and replanting Bergenias, spreading some manure, weeding, and digging out an old dead Cistus shrub... I've been slowly working my way towards the Hen House Gardens, listening to the burble of the water race, the gurgle of rooster as I throw him grubs (what a nice bird! - he beak-feeds them to the hens), the crackle of my cricket radio...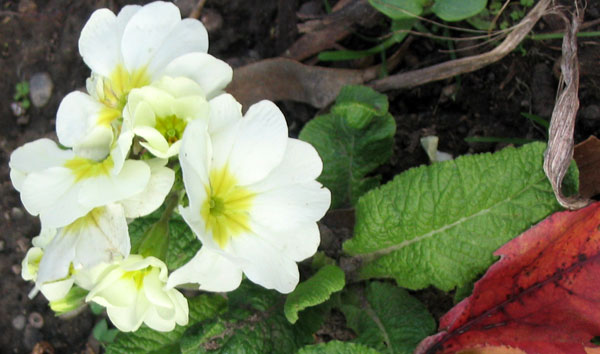 Pretty Polyanthus
Consequently I haven't got anywhere near that Hump, with its hypothetical rhododendron forest. Having already worked so long and hard, however, I will be tired and vulnerable to the allure of rhododendrons (25% reduction in price at my local nursery). Luckily I am car-less. The sun is quite warm for winter, and there's blue sky with a few pretty clouds. How lucky can a semi-retired gardener get? I have minimal hand scratches from my random prunings, my knees seem to be working really well, and I am sensing a new level of mental toughness. Out I go again!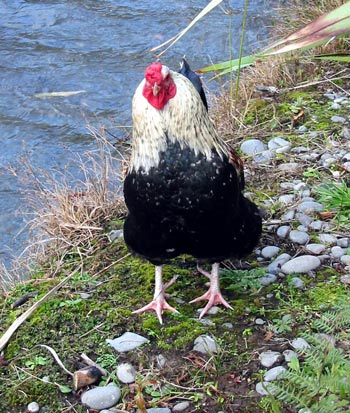 Rooster on the Dog-Path
In I Come!
In I come! - After forty minutes clearing in the Hump (enough time to saw down two more trees, arrange tree remains in piles, and fill the wheelbarrow once) in came the cold, noisy, southerly wind - with rain spots and sudden dark grey skies. So I decided to quit while I was ahead. Here I am, New Zealand clean and green - (well, I am actually wearing my new Australian sage green apres-gardening shirt made (legally) from hemp) - about to look at my latest pictures (which will be oh so drab when compared to the latest Moosey London Hampton Court photographs).
Rooster Pictures
You guessed it - I have a surfeit of pictures of rooster in various parts of the (bland and colourless) water race gardens. No-one will want to see these, when they could be peering at the multi-coloured delights of a summer Sweet Pea festival... Humph...
Wednesday 28th July
My goodness - it's nearly August - theoretically my garden should be one thousand percent better than this time last year. It feels like I've burnt one thousand percent more rubbish, at least. And that's what I'll do first today, before the wind comes up.
I have to go to work briefly at lunchtime. This means I can earn a little money, and have TWO huge gardening sessions - thus I should finish the Hump clearing exercise. Please, please, please - let my energy not fail me!
Sweet Peas :

Very sweet sweet peas, too! You can see photographs of these at the Hampton Court Flower Show.
Now it's mid-day and I've burnt for two hours - almost, nearly finished! This Hump clearance is turning into a chapter of The Never-Ending Story. The plan is to zoom off now, earning money to pay for my Sweet Pea seeds (and the rest), then to return - absolutely full of energy and determination - and leap back into the garden. Here goes!
Later...
I did it! I worked for another two hours as soon as I got home from work. I am SO tired! And is the Hump area finished? Don't ask.
Friday 30th July
I'm back! No gardening yesterday, after a great night of steady rain. We need rain. I pottered in the glass house, then went to work.
Winter in the Glass House
Today is a different story - it is 8:30 am, the sky is turning blue, and it's really mild for winter. When are we going to suffer with snow, etc.? Perhaps we'll miss out here in Canterbury. Anyway, my winter clean-up programme will continue today in the Hump. I promise not to mention it again until I've finished in there.
But talking of the Hump, the local fire chief was checking out some maps of the Waimakariri river flood plain. He thinks that some hundreds of years ago the Hump - much talked about in the Moosey Garden history - was definitely the southern bank of this great meandering river! Wow! So the Hump has some (dubious?) local historical significance... this should inspire me to get it clear and suitably planted with natives (no rhododendrons allowed).
Baby Pink Camellia
And now I promise not to talk about the Hump - until... hmm...
Later...
Such a good day - again - Moosey the Winter Gardening Legend continues to shine. I will say no more.
Saturday 31st July
Eeek! - The last day of July! Today I had better finish the Hump - cleaning up this historical site (see above paragraph) can't drag on forever. And I will finish weeding along the back fence underneath the Mermaid rose - I started that late yesterday, and found several scattered piles of daffodils which needed instant planting - oops! The Dog Kennel rockery needs weeding, too. Lots to do - I'll just wait for a bit more sun.
The Dog Kennel Garden
I'm back - tired after four hours work. I've raked and cleared around the garage and back of the house - and started clearing the leaves from the Frisbee Border - boring stuff really (but not for my chook companions - new diggings, new grubs). I've burnt the rubbish as usual. Wouldn't it be nice if every single area of my garden could be tidy? All at the same time?
Goodbye, July 2004, you've been a great gardening month.