Get more compost?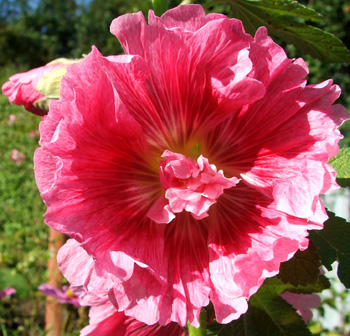 Sunny Hollyhock
No time to lose. So much to do. What to do first? Get more compost? Weeding? Burning? What to do last? When to write my gardening journal? What about the newsletter? What to wear? Well, at least that last one's an easy question - blue gardening shirt and jeans.
Saturday 14th March
Minimus the kitten has scampered off with my hard-boiled breakfast eggshell in his mouth - eek! That kitten is so funny. Last night he 'collected' a long length of toilet paper and roared down the stairs trailing it behind. Tiger the fat cat (lurking underneath the table) pounced. Small things - small minds - huge pleasures!
Sheep :

We have a small flock of merino sheep which we grow for wool.
So that I'm writing down proper livestock records, not just silly animal anecdotes, we have three new young ewes to bring fresh blood to the Moosey merino flock. Our farmer friend down the road is very precise - though 'Flopsy' as a sheep breed may be relatively unknown! Hee hee...
Yellow Tag #480 - 1/2 Saxon, 1/2 Merino.
Yellow Tag #482 - 15/16 Merino, 1/16 Arapawa, 1/32 Finnish Landrace.
Yellow Tag #488 - 3/4 Merino, 1/4 Flopsy.
Right. No more writing, I'm gardening. And planting. And weeding, burning, raking, tidying...
Much Later, with Much Tiredness and Happiness...
If I am to get the garden ready for deep scrutiny by visitors I will have to work jolly hard every single day! Like today, when I've been doing good work for six hours. I finished the day with a couple of hours burning. I am really tired and really happy - I think I can do this!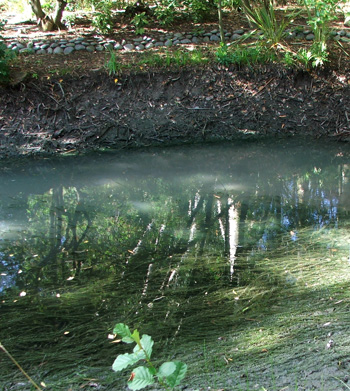 Moosey Pond Bottom
Details, Details...
I shifted a rose that had always annoyed me in the Shrubbery. I pulled my old potted Astelia apart and replanted the pieces. I watered all my new plantings. I trimmed branches off the Silver Birch. All these little details I am attending to... I impress myself!
Then I started clearing the rubbish from behind the pond, while the pump draining the water gurgled away. A waterless pond is not the most beautiful sight!
The status of my garden tools is also quite fluid (hee hee). At the moment all my metal rakes are lost, but my groovy secateurs turned up in the burning rubbish by the pond - phew! Hadn't told anyone (e.g. the secateur's owner ) about that!
The pond is nearly drained ready for the man with the scoopy digger - there are alarming deep olive weeds growing in the slush on its bottom. Tomorrow I have to clear the entrance from the ram paddock into the pond paddock. The plantings along the path are impermanent - they'll all be plopped into pots.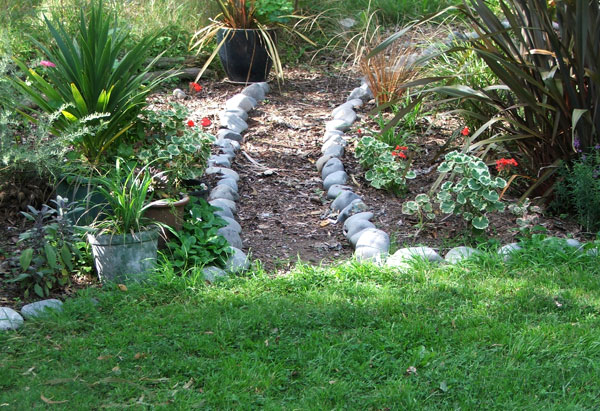 Clear This Space!
Sunday 15th March
Some quick thoughts - the wine barrel now has drainage holes and is ready for five salmon-pink Pelargoniums. All the lawns are freshly cut, so naturally all my garden borders look absolutely beautiful again - from a distance! The mown green lawn carpets transform my messy - exuberant sounds better - gardens into delightful shapes and lovely textures, where even my boring old Cordylines and Choisyas look brilliant.
Choisya Sundance
Today I need to work even harder than yesterday. My reward will be a days hiking tomorrow in the mountains. I need to clear behind the pond, perhaps pick up the pea-straw, and finish planting the sale price plants. I see I've got some cute little rhododendrons to plant - where did they pop up from?
Ellerslie Reflections
Say NO to Curved Gabions...
One last thought about the Ellerslie Flower Show - the curved gabions in an exhibition garden. I'm glad I saw this, because I was wondering about constructing my stone tower using this technique. No. The stones have natural curves - the curved netting looked silly.
Later...
I am a tired old legend - I have worked for nearly six hours, mostly carting and burning rubbish. Amazing. What a brilliant weekend!
Monday 16th March
Minimus the kitten is playing with an 'old' (deceased) mouse - he's having so much fierce, growly fun. No other cat is allowed near his trophy - fair enough. Let's hope that he doesn't stash it underneath a chair and then - ahem - forget about it.
Today I'm off to the mountains for a day hike. The pond men are coming. And I have two Manly Garden Helpers (son and friend) coming on Thursday to help with the preparations for the dreaded GC Visit, and the waterwheel, which will be lowered carefully back into the water. Wow - it's all happening! Back in seven hours.