The yin-yang of gardening life...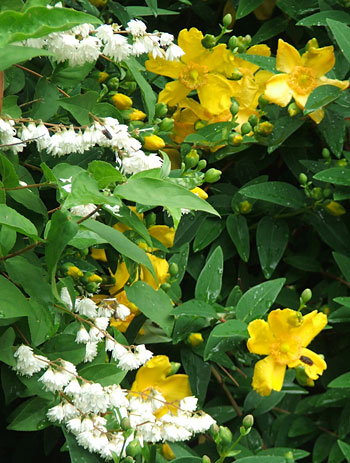 Hypericum and Deutzia
It only takes a couple of rainy days and my plants are exceedingly happy - as are huge swathes of grateful weeds. So be it. The yin-yang of gardening life, methinks, and I wouldn't want it any other way. But wait a tiny moment - how about a garden without excessive weeds? Hmm...
Thursday 15th December
It's been a good time for non-gardening 'busyness'. I've been collecting Christmas gifts (all recycled), singing Christmas carols in strange places, and playing Bach and Brahms on the piano.
I've finally upgraded my meagre collection of classical CDs to listen to in the house, buying up lots and lots at 50 cents each. My Ipod tunes (which include lush piano works by Rachmaninoff) are thus saved for the garden. I've stocked up on potting mix, and big recycled plastic planting pots, and I even have compost and manure. And two spare Christmas jigsaws...
My New Pond
Christmas?
So what could I possibly want now for Christmas that I haven't got? I seem to have pretty much everything I can think of.
Best of All...
Best of all is Non-Gardening Partner, who is so supportive of my garden silliness. Then if I was to get really serious, I'd ask for a bit more wisdom, with a dash of patience, sprinkled lavishly with serenity... Oh, and maybe a tree house in the willow stump. And faster piano fingers.
I love the bright orange river pumps which feed my little stream, and my pond which still seems to be OK. Sad gardener that I am, I keep wandering out of the cottage in the middle of the night (followed by young Minimus the cat) to peep at the pond with my torch. Just to check - what, I'm not sure! Obsessed, perhaps? I'm sure Minimus gets quite puzzled.
And I love my six silly concrete cricketers, and all my garden gnomes (over seventy, at last count). I love my dog, even when he rolls in unmentionable things in the house lawn. And I love all my roses, and the peonies, even if they have now completely flopped over in the rain. Silly design, you top-heavy flowers...
Dog Rolling in Something Smelly
Shrubs I really associate with mid-summer Christmas are now blooming, particularly the Ballerina roses by the pond, yellow Hypericum, the rose Sally Holmes, and the daylilies. I have a new peony flowering in the Birthday Rose Garden which I can't remember purchasing - it's a big single pink, just gorgeous, and the bees love it.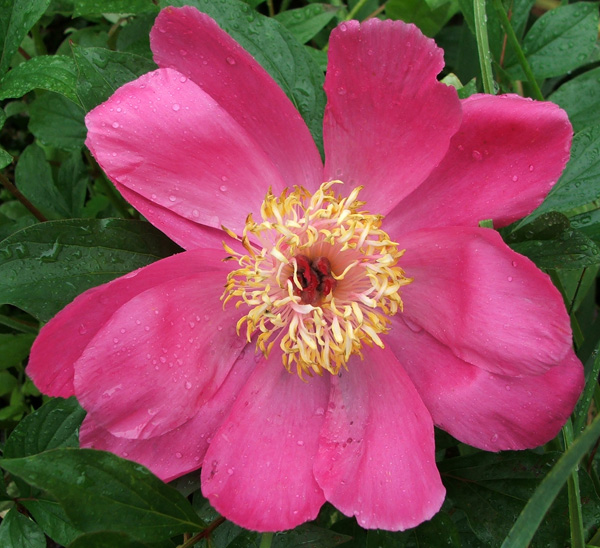 New Single Peony
'More is more, as far as Alliums are concerned.'

-Moosey Words of Wisdom.
The pergola garden is full of deep blue Delphiniums, and the purple Alliums are flowering (they get a bit lost in the colour mess, since there are only a handful of them). Memo to self - purchase lots and lots more Alliums when the appropriate bulb catalogue arrives. More is more, as far as Alliums are concerned. I love them, and mass-planting is the only way to go.
Friday 16th December
It's a big-time rainy day, where the driveway gets covered in puddles and I give thanks I don't have any flooding issues. Sometimes living on a flat piece of land has its advantages? If I gardened in a groovy gully, then at times like this I would have problems. My water race has a controlled water flow, and in times of river flood can be closed off at the intake.
Christmas Teeth!
Congratulations to me and my new Christmas smile (AKA teeth). What a Christmas I'm having - new teeth, river pumps, lots of singing, new azaleas, new roses - my dentist has even given me a courgette plant. And I have been lent a copy of Brahm's Piano Concerto No. 1, which I'm playing over, and over, and over again, hee hee.
Wet Summer Patio Garden
A really rainy day will be good for me. There can be no guilt that I'm not clearing up the hedge trimmer's mess, or laying more stones down my new Wattle Woods stream. I can make a start on the Moosey calendars, try and get my Bach and Brahms piano pieces going faster, and break the back (ouch) of the Christmas jigsaw. It's far too wet be in the garden - no nocturnal visits were even made to check the little pond last night (no umbrella).
Non-Gardening Question
I have the smallest little non-gardening question. Why do I find Vivaldi so tricky to sight-read on the piano? He repeats when I'm not expecting him to repeat, and then wanders off when I'm anticipating some of the 'same-old, same-old'. His harmonic and thematic sequencing just don't suit me. So there.
White Flower Carpet Roses
Saturday 17th December
My aqua-jogging friends and I have just had our 'Christmas Break-Up', with recycled and home-made gifts. Quick - there's no time to lose. I have serious garden business, to be completed by 4pm this afternoon (when I'm playing chamber music).
Almost a List...
Running the risk of sounding like there's list of things to do, I am shovelling damp ash off the bonfire, and then starting the clean-up of the hedge trimming debris. Small stuff gets burnt, big stuff gets shredded. Easy.
Later...
Enjoyed 'The Garden Offering' (me on nippers and rake, Non-Gardening Partner on shredder) followed by 'The Musical Offering' (me on piano, friend on flute, Non-Gardening Partner on violin). Weaving and wriggling through JS Bach's magical pathways - a great way to 'almost finish' a great day. A beer mug full of red wine was the ultimate finisher.