It's supposed to really be winter...
Apricot Scentasia
June has started well. It's supposed to really be winter - no way, even if I do have a streaming head-cold. There's not a sniff (unfortunate word) of the winter gardener inside me yet, even if I'm thinking about pruning the roses soon...
Wednesday 1st June
Fluff-Fluff, largest and fluffiest of cats, has squashed himself inside his favourite too-small cat basket and (as always) is coughing and spluttering. Silly cat - he doesn't fit. That can't be comfortable! Tiger the cat has got herself locked in the pantry and is squeaking.
Rusty the dog is sighing like an old man, bored with me. Why can't we doooooo something? Well, we will, Rusty the dog, we will. I have some yellow tulip bulbs to plant, and I want to continue my clean-up behind the pond. It's a sensible fact of gardening maintenance - the more I clean up, the less there is to clean up next time. I'm sure I've discovered that before now!
Rusty the Dog is Bored
As for this month's garden project - here's a clue. There is a web-page entitled 'How To Build A Tree House' open on my computer, hee hee. I will take some photographs instantly of the chosen willow tree stump.
Guy Savoy Rose :

Guy is a beautiful cherry striped rose - and a famous French chef.
And I need pictures of the ridiculous late blooming roses, like Guy Savoy, who could definitely enter the Longest Winter Rose Cane competition. He stands taller than I am, with a cluster of cherry striped roses, blooming way up there! Silly rose.
Right. I am off to borrow a cat-cage for little Minimus (she's going to the local cattery early July, and needs her vaccination). And when I return I will dooooooooo something (my promise to Rusty), but it will be boring old gardening. Ha!
Much Later...
How good am I? Four hours work - six barrowfuls of rubbish carted and burnt, four bags of horse manure spread, two buckets of pine cones collected, a recycled rose (possibly a thuggish rambler) shifted along the fence, a green Cordyline and a Photinia planted, and clumps of old Agapanthus roots discovered sprouting underneath a tree. I've cut them up with the spade and planted them alongside the path, which has been raked. Tough cheese if my dog thinks that's a boring day. Or anyone else, she added fiercely...
Thursday 2nd June
OK, I know it's only been a head cold, but putting in three, five, and then four respective hours gardening in three days has been pretty impressive! NGP says I 'sound better', from which I should take the hint. Today I'm sort of stalling, snug inside with the log-burner going.

+20Little Minimus has been to the vet - she's back, wedged underneath the house decking, while Tiger nonchalantly sits on top washing her far-too-fat bottom. Just a gentle reminder of the 'scratching order' in our cat household?
Last Autumn Leaves
Disney Gnome Dilemma
I'm not sure how much gardening I'll do today. I should continue the clearing and burning mission from the new garden way behind the pond. Shouldn't I? I should get changed into gardening clothes ay least. I definitely need to get out more, having given in to temptation by placing autobids on eight Disney garden gnomes - the eight dwarves? So the trick is now to shut down the computer and not be tempted to check the online auctions, which all close in three hours. Ha! This is the perfect excuse to do three hours gardening.
Over Three Hours Later...
Phew! I am pleased to report that I lost all the Disney gnomes. So rather than feeling silly and guilty, I just feel silly. However, it was fun gardening in giggly anticipation! For I have worked very hard today. I've cleared out more mess from behind the pond, and the whole area now looks like a beautiful inviting shrubbery, all green and mysterious. Memo to self - say no, no, NO to planting rhododendrons in here. Aw - that's not fair. After all, I have saved money by not buying eight Disney gnomes. Anyway, five of them were too small...
I've replanted two old-fashioned roses (both Geranium moyesii) which were originally over the fence on the edge of the ram paddock. Thanks very much, said Charles the ram, as he munched all last year's new growing tips off. Better luck this coming summer (oooo - that's such a long way away) I say.
Shasta Daisy
A Lucky Escape...
My goodness I feel virtuous and sensible about those gnomes! I've had a lucky escape from - how does my friend put it? 'Old Lady Collective-itis'...
Friday 3rd June
Well, after yesterday's kafuffle regarding Disney gnomes, I have another confession. Today I'm bidding on two splendid retro concrete chaps. Same deal - I'm not looking until afterwards.
So I wonder - what gardening should I do today? I have had an exceptional week, after all, and could easily take a day off. And it is technically winter, when there's not all that much to do, in theory...
Much Later...
I drove to the rose nursery and came back with a scribbled list and a new season's catalogue. That doesn't really count as gardening, does it? Hee hee...
Saturday 4th June
Oh dear. I haven't read a new season's rose catalogue in years, being inclined to rescue the recycled and grab last year's unsold unfortunates from sales. Sitting up snug in bed in Pond Cottage earlier this morning, with a hot cup of tea, Minimus the cat, and a pen that worked - disaster!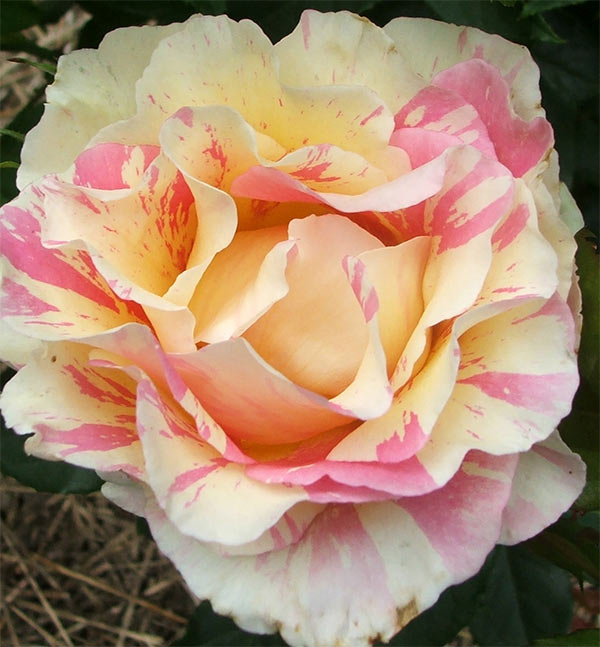 Striped Rose Claude Monet
I have 'bought' about fifteen roses from the nursery list, including a white climber for the cottage itself (Lamarque) and a host of painters for the house garden - Michelangelo, Claude Monet (again), Paul Gauguin, and Leonardo da Vinci, who I think is pastel pink. I wonder if the man himself would approve. I also have several David Austins to try out - Kathryn Morley and the Friar are two pinks on my list. I now think I have rose Charlotte - an English-looking rose with her credentials gets photographed every year, called 'Unknown Yellow'.
Shabby Chic Garden Gnomes!
And I am the proud owner of two new retro concrete garden gnomes, the two together costing less than a leg of roast lamb. They do need their clothes painting, but I am thrilled. Shabby chic garden gnomes, no less! How very exciting, even if they are more 'shabby' than 'chic'.
Garden Glossary :

My Garden Glossary attempts to define all the made-up words and phrases you'll find on the Moosey website.
Right. I had the gardening day off yesterday, so today I have to make up for this. I rather fancy some grasshopper gardening (recently defined in the Garden Glossary), but I will probably end up with an enormous bonfire. I can think hard about all these new roses while I'm raking and wheeling all the rubbish.
Four Hours later...
Oh my goodness I am good. I am sooooo good! I've cleared more rubbish from behind the pond, dug out old grasses from the edge of the Wattle Woods, trimmed Phormium leaves, cut out a random tree and some dead rugosa rose canes (very hard to tell if they're dead at this wintry time of the year). Everything is burnt. I've had a huge cuddle session with Lilli-Puss (one week's worth of cat-smooching in fifteen minutes). Non-Gardening Partner has finished shredding the willow tree branches, but is avoiding talking about my new tree house (his excuse - he's caught my cold). I am instructed to try 'maybe tomorrow'.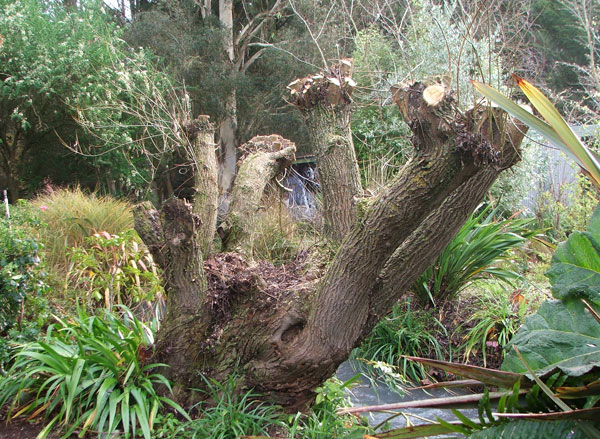 Willow Stump - Site of My Tree House
I've had lots of good ideas about where to plant my 'new' roses. I love the idea of new roses. I deserve new roses. I've gardened for hours and hours with a streaming head cold and hardly grumped once.