Unfair!
Seems a little unfair. We 'enjoyed' two to three days (it felt like weeks) of really hot temperatures and nasty winds. I watered my garden at night, I watered the pots on the patio, I carefully dribbled hoses onto sad trees. I thought I'd got away with it. Alas, no, I didn't, and I am only just noticing the damage. Most of which is superficial, but hey! It's what one notices about the garden that affects one's opinion of it.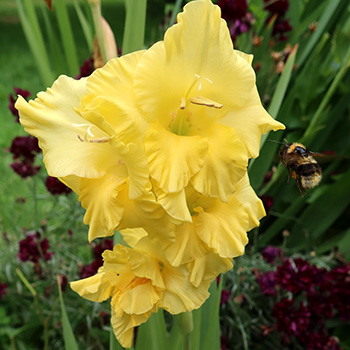 Spot the bee!
So sad!
So sad! Clumps of dahlias that usually stay upright and flower all the summer have blown over, fast-tracking themselves into seed production. Hydrangea flowers and Gunnera leaves have both been sunburnt. A cornus has badly drooping leaves. Even tough shrubs (like the rugosas on the fence-line) have scorch marks over their leaves.
Careful watering...
So I'm back on a really careful watering scheme - trying to help out a struggling Cotinus, the Esk Sunset Sycamore in The Shrubbery, the house patio gardens, the roses in the Allotment Garden, the shelter Pittosporums on the boundary. Hey ho, shift a hose, slop a bucket of water...
Sunday 31st January
I've worked really hard all day trimming things. Dead-heading dahlias, clearing paths, trimming Lychnis (pulling out any plants that are too old), dead-heading roses... I've been concentrating on enjoying the bees buzzing around, and the green leaves of the trees.
Mid-afternoon the two brown dogs came for a quick visit. Oh joy! We had such fun, chasing balls, going for swims in the pond, and charging through the garden. At one stage a howling competition, in the house - too noisy! Half an hour after the visitors went home, all the cats re-appeared. Everyone back in their rightful place.
Monday 1st February
What a great day! I've cleaned up around the new house deck (thanks, NGP), and had my lunch on the little metal table and chair. Nice surroundings, blue pots looking great, and of course the new decking is spectacular.
New House Decking
My last two trimmings loads came from the Hump, near the tomatoes (which are growing well). I found a nasty grass caught up in the Miscanthus roots - so that will need to be dug up, maybe in winter. I need to flush that grass out before it does any more creeping.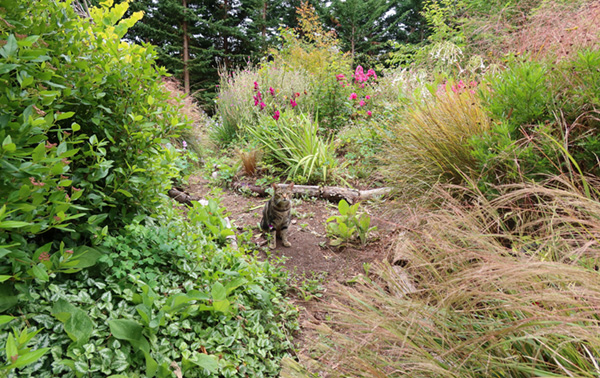 Fred in My Scruffy Garden
I harvested lots of self sown potatoes, and pulled out weeds too - lots of them. Also decided to remove a couple of seedling Prunus trees - they have horrible thorns along every branch. Worked so hard. Funny how the extreme (for me) heat hasn't affected my rubbishy trees at all.