So silly...
Queen Anne's Lace
Am so silly sometimes. Trimming a garden on the back house lawn, noticed lots of little white specks all over the leaves. Aargh! The dreaded white-fly! Raced in to find my insect spray. Came back, looked again. Oops. Queen Anne's Lace seeds! Lovely! I love this annual - it is most welcome to self-seed for me.
And am so inattentive to garden details. I've never, ever properly noticed the big Eucalyptus trees flowering before. And I've gardened underneath them for over twenty-five years! Ha! Took a photograph of the flowers, and again, felt very silly. I am supposed to be an intelligent gardener...
For the last week I've been trimming - often in a new location each day (never a chance to get bored in this garden). Today I've been in the Pond Paddock garden, trimming Lychnis and Campion, dead leaves off Phormiums, and so on.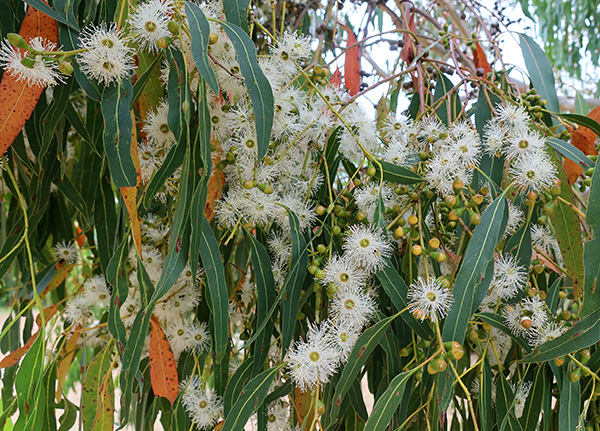 Eucalyptus Tree Flowering
But I'm also planting - two new green Phormiums (one in Pond Cottage's wee garden) and a burgundy leafed Weigela called 'Wine and Roses'. The hoses are on, as usual, and I keep seeing plants that are in the wrong place. Oops.
New Zealand Gardener Rose
Monday 9th February
Hey ho! Am back, after another three or four days trimming. Sometimes I collect just two barrowfuls - but this is surely is better than none. On the hotter summer days I'd much rather gaze (squinting, so I don't pick up too much mess detail) at my garden, sitting underneath a shady tree. Have been trying my best to do something meaningful in my garden every day.
Plant rescue mission...
Am also winding up for a major plant rescue mission. As well as struggling roses (mainly in the Allotment Garden) there are several other plants I want to dig out and reposition - the Brunnera Jack Frost, for one. And several Pittosporums in the Pond Paddock garden. I just seem to plant things in the wrong places.
And then this sort of thing happens : months ago I rescued some clumps of Bergenia cilata, desperately unhappy in my garden. They're still in pots behind the glasshouse, and are thriving (with beautifully huge leaves). Seems awfully unfair, and it's the wrong way round. So being stuffed into pots and ignored is better than being planted carefully in supposedly good soil? Humph.
Anemanthele Grasses
Today I removed some Anemanthele grasses from the driveway and potted them up. These worthy grasses need nurturing, and they are so handy for filling up gaps. I love their feathery stems.
Bee on a Leek Seed-Head
Lack of rain...
The lack of rain has been causing some of my problems, though. Have had to pull out the last of the Salvia uligosa (far too dry) and have them soaking in a tub of water. It would be a jolly good idea to plant smarter. OK. I knew that. Must go and shift the hoses.
My next trimming location has to be the Herb Spiral. I've made a start by the rhubarb patch - a lot of creepy grass needs to be removed properly. I cheated and weed-sprayed the paths around the spiral, which are chock full of deep rooted dandelions. This is bumble bee central - they adore the big leek seed-heads (my substitute for not being able to grow Aliums). Or is that Alliums? Suspect the latter.
And the roses that need to be rescued? Basically, all the smaller ones in the Allotment Garden (it's far too dry in there, and my hoses barely reach). And the ones in the wee garden by the dog kennels. Again, too dry. Then there are two brave old-fashioned ones - Hebe's Lip and a possible Rosa Moyesi, both planted near the fence-line in the Welcome Garden, and both struggling to bloom at all - again, too dry.
And finding those Queen Anne's Lace seeds has reminded me to start collecting. I've got Cosmos and annual yellow daisies so far. Nice work - looking ahead, so sensible. Yeay!