Pumpkins...
Pumpkin Trail
I seem to have an excess of pumpkins roaming around the Hump Garden. Daughter, who I share produce with, has even more. In her (small) edible garden vines trail up and over trellises and fences.
My pumpkins have climbed all over the other plants, threading themselves through the ornamental grasses. Roses and dahlias I planted oh so carefully are in there, somewhere, smothered.
Now look - I did plant them, and I thought I was being sensible in choosing their location. But pumpkins have extreme roaming tendencies for which I have been obviously unprepared. Actually I have never purposely grown them before. But I love cooking with them. Creamy pumpkin soup in winter - wonderful!
So today I weeded around the pumpkins, lifting them up, laying them carefully back, trying not to break or stand on any part of them. I staked (finally) the tomato plants, which should give the fruit a better chance of ripening.
Poor wee Maple!
I carefully rescued the pretty pink and green variegated Maple which was being used as a pumpkin prop and was drooping with the weight. Poor thing - this was not its purpose in garden life! I also cut down a self-seeded Sycamore which was in the wrong place. The pumpkins would have been welcome to climb up this tree!
Watched the bumble bees buzzing around the Buddleia shrub and the single dahlias. The bees totally avoid the pink spiky ones - waste of garden space, I reckon, growing these.
Buddleia
Trimmed seed-heads off more Anemanthele grasses (making them half as wide), kept uncovering yet more pumpkin vines and Buster the cat (lolling underneath, spying on me). Miss Buster, International Cat of Mystery...
Buster the Beautiful Black Cat
Saturday 20th February
Hello to today. It's mid-day, rather hot. I've only trimmed one barrowful of mess, staying in one place. Trimmed grasses, uncovered more roses. When I planted the pumpkins this whole area was empty, with so much visible soil. Some gardeners just don't think and plan ahead properly. But I have planned for this afternoon - I am going to watch the big boats on TV. It's too hot for me to be gardening. So there.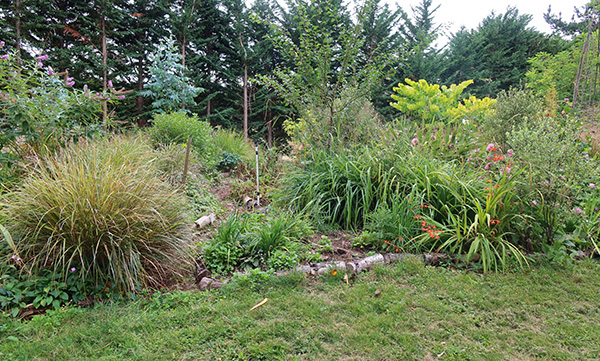 The Hump Garden
Finished my day by carefully weed-killing the California thistles. Then I dug out two old-fashioned roses, struggling by the fence-line. Hebe's Lip is one for sure, and the other, a single once-flowering red, may be a Rosa Moyesi. They're trimmed, in pots, and I expect them to soon show their gratitude for being rescued.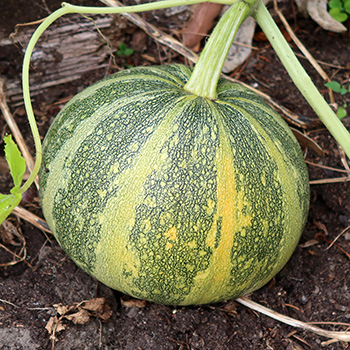 Ironbark Pumpkin
Sunday 21st February
Eek! I am a mediaeval singing gardener! I am off to sing Guillame de Machaut's Messe de Nostre Dame. Have done quite a lot of practice (I have some solos), now all I can do is enjoy the weird hiccup rhythms and the mediaeval tonality. Eek again! Must clean my fingernails.
Later...
Groovy! I'm proud of myself - really enjoyed myself, remembered to breathe, came in at the right times, didn't make any mistakes. But I haven't done any gardening. Have been relaxing all afternoon doing my jigsaw, travelling on a Youtube train in Switzerland, and watching the big boats. Oh well. There's always tomorrow.