A beautiful spring Saturday
Spring Daffodils
It's a beautiful spring Saturday, Day Eighteen of Lock-Down, and I have big plans for Non-Gardening Partner. Weekend chain-sawing! So he's decided to wash the floors and vacuum the carpets and rugs in the house. Clever man. This obviously puts me in a dilemma. One cannot redirect a man who is doing the housework.
Today I'm going to pace myself - lately have been running out of oomph far too early, showering at 4pm, sleepy and ready to go to bed at 6pm. This is not appropriate. I am determined to last longer in the garden and out of it.
Skittish Haydn...
I did my piano practice first thing - am playing all the Haydn sonatas one by one, just for something completely different (am sight-reading them). Apart from my sedate interpretation of the tempi they are sounding OK, if a little skittish.
My morning gardening involved weeding in the Driveway Garden, trimming down old Hebes, and planting Peonies and Lupins in the Hump Garden. My fingers are already noticeably achy. Blast. The perils of being a weeding pianist...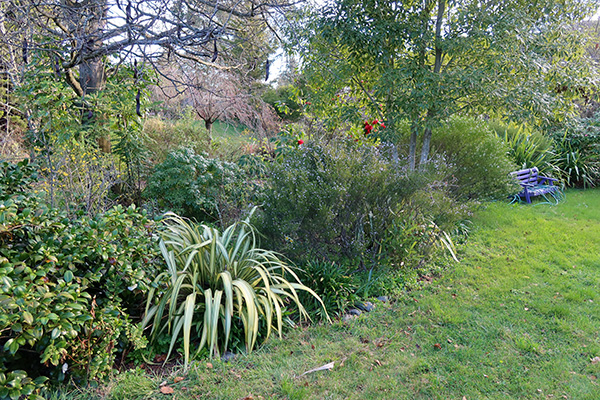 The Driveway Garden is Weeded
Later...
No chain-saw action, so I went down the driveway towards the road to do some really boring trimming and weeding. Two Cream Delight Phormiums needed their dead leaves cutting off, several Hebes were living up to the description 'short-lived' and had to be chopped down. Old Anamalenthe grasses, quite dead looking, were lining the driveway - well, not any more, at least not so many. I kept working on and on, hoping that NGP would appear. He didn't. In I came for afternoon tea, and out came my sweet voice - how wonderfully clean the house was, and did he feel like chain-sawing? Flattery...
Success!
Success! He agreed. I took him on a circuit of the whole garden, pointing here and there. In about twenty minutes he'd removed what would have taken me hours - seedling Eucalyptus trees, several more dead Hebes, unwanted Pittosporums, and so on.
And I've managed to delay my shower until 5pm, which puts me happily on track for a late night! Wow! Well, late by my standards...