Happy Birthday to Me...
Good morning to me, and Happy Birthday! Yes! What would I like for this year's birthday present(s)? Already, the garden has accepted, on my behalf, some very welcome birthday rain. And it's given me some beautiful spring things to enjoy. Aha! A list!
Item One : A whole year's worth of good gardening energy, plus good organic matter. Probably not plants - because I can build my own. It's seed sowing time anyway. Maybe some birthday shrubs - instant fillers like Choisya, or some long-term lovelies (like rhododendrons, yum). But back to the list :
Item Two : A whole year's worth of musical energy for my piano. So I can play Bach better. Have ditched the composers who require lots of right hand octaves. A bit sad, but never mind.
Fred
Item Three : Harmonious cats and dogs. Little niggles are OK, but nobody is to be mean to anyone else. No jealousy - there's room in our hearts for all of you, that sort of thing. And could Pebbles the dog please not bark rudely in my face, and could Lilli-Puss learn to use the garden instead of needing a cat litter tray. Yeay!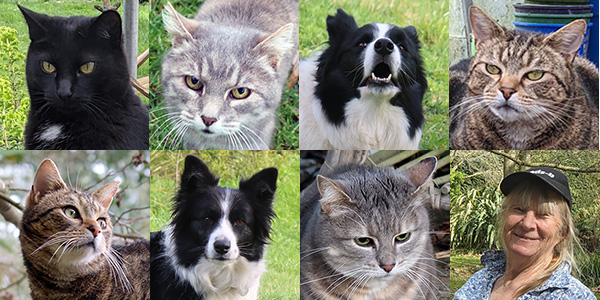 Happy Birthday to Me!
And I want some things for the world. Less plastic, and less greed. Hmm. That'll do for now.
Later, a Birthday Bonfire...
So the rain stopped, and I checked online, and - alas - I was allowed to light my bonfire. So I did just that, scooped quite a few hedge trimmings onto it, and collected three barrow-loads of mess. Horrible thing to do on my birthday!
Thursday 9th September
My Birthday Week continues - morning tea with cake with my friends. Then back home for some Birthday Bach - his English Suite in A minor.
Lilli in the Garden
It's too windy for bonfiring, and for sitting reflectively on garden benches enjoying the blossom and sipping cups of tea. The big winds are far too noisy and aggressive, and one worries that the blossom won't be strong enough to hold on. Reflection requires a much calmer atmosphere...
Friday 10th September
A most unpleasant night. Midnight - clunk! Noises off, some part of a tree fallen down somewhere close to the cottage. Had a soothing cup of tea. 5:30 am - woke up again. Roar! I mean RRRRRRRoooooaaaaarrrr! Grabbed shoes, opened window for Minimus, ran for the house. Too scary.
Later...
So the wind has stopped, I've taken Lilli-Puss for several walks, done a bit of scratchy weeding, and now it's started gently raining. So that's about it for today. Have to clean my fingernails, wash my hair, and get poshed up - have a piano playing gig this afternoon.