Is this a path?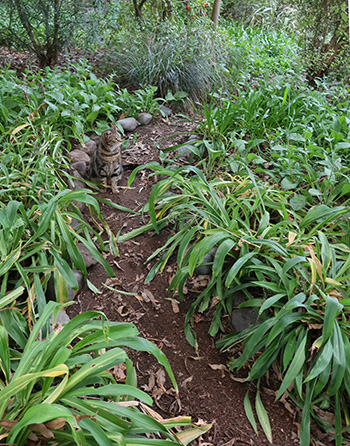 Is this a Path?
Yesterday I took Non-Gardening Partner into the Wattle Woods to cut down some Viburnums with his chain-saw. Is this a path? he rudely asked. He did have a point - things were greatly messy. So today, some serious path action. The Wattle Woods garden needs me. And it's going to get me. Have made huge progress in the Wattle Woods, helped my Minimus my cottage cat, who has been building scoopy, dusty nests in the paths. Have rescued four clumps of miniature Agapanthus. Rock lilies (which were out in the open, frosted, looking awful) have been dug up, trimmed, divided and plopped in water. They'll be planted under shelter. I also have a bucket of Pyrethrum daisies which were growing in the path.
I've dug out more old Anemanthele grasses (I've been doing this for weeks now). Yet another Hebe has been chopped to the ground. Suspect old age, plus last summer's lack of rainfall.
I've raked and raked - five barrow loads dumped behind the pond, more to come. And one rather daunting thought - when we drop down Covid Lockdown Levels I'll be able to start up my bonfire again. Aargh! No! Please no!