Introducing the Septic Tank Garden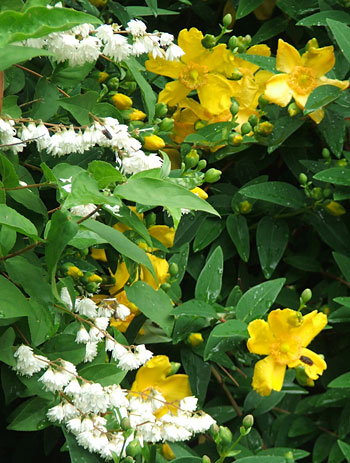 Hypericum and Deutzia
A garden border was already dug around the septic tank on the east side of the house when I arrived in 1994. The obligatory set of shrubs were proudly in residence - one Camellia, one Ceanothus, one Weigela, one Azalea, one Philadelphus, one Hydrangea, one Deutzia...
One of Each Shrub
Just what every house garden planted in New Zealand in the 1970s had to have - one of each, and no more, even though this was a country garden.
I added rose-covered archways, roses along the fence, and more and more flowers, with herbs and lavenders to encourage the bees. Soon clumps of green ferns planted themselves (they self-spored?) and filled up any spaces.
Phew - a cluster of pots camouflaged the wooden cover to the septic tank, though these days they're somewhat ignored. And - silly me - I planted some Alkanet, which I'd found growing in another part of the garden.
Sorry About the Name!
Some garden borders just canname themselves - sorry about that! The Septic Tank Border has always been a messy mixture of plants - dahlias, lupins, lychnis, roses, irises, geraniums and small daylilies.
Originally this area housed an old Ceanothus, but the winter snow of 1996 cracked and killed it. The old stumps are now completely covered with euphorbias and some large Sparrieshoop roses, and there are two beautiful Prosperity roses in the centre of the bed.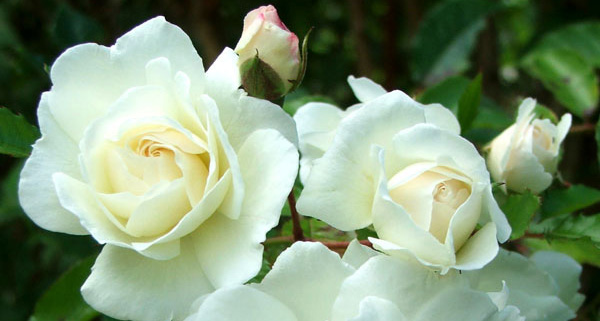 Prosperity Roses
Go through the house side arches past the big pink Camellia, an original shrub. Clair Matin and three Abraham Darby roses flower on the fence-line, and peeping through to the Pond Paddock you'll see many more pink beauties. And Pond Cottage in the distance, my garden shed-with-a-bed.
Foliage in the Septic Tank Garden
On The Shady Side
Plantings in the Pond Paddock side of border have changed over the years as the nearby flowering cherry and oak trees have provided more and more shade. Out went the irises and daylilies, and in came shade lovers like hostas, with some beautiful little spreading Japanese Maple trees for colourful company. A couple of thododendrons are almost ready to flower, while the perennial cornflowers underneath are so pretty in spring. Camellias, too, have been planted in here.
Snow Damage...
Sadly, New Zealand flaxes had had to be dug out, as they were cruelly flattened by the snow in 2006. But some gardeners never learn. I've replanted a couple of clean green ones, just to give winter interest. That's snowless winter, by the way!
The small Laundry Garden has a reading seat surrounded by herbs and lavenders. A Philadelphus shrub shelters the gardener when she's relaxing in late spring. Summer brings out a mass of white Shasta daisies (not so fragrant), and autumn shows off with yellow perennial daisies.
So what's in a name? The Septic Tank Gardens are some of the prettiest in the garden.