Tea Time in the Garden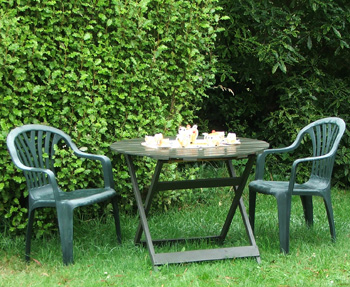 New Table and Chairs
On the back lawn by the Sleep-Out I've placed some second-hand garden furniture - a comfortable wooden bench, and a round table with two seats. And there's even a silly tea-set, to set the scene ready for summer refreshments...
In 2009 I decided it was time to dress up and accessorise the Moosey Garden. I wanted more garden seating, and began searching in online auctions and Charity shops.
Bargain Furniture
Bargains were soon snapped up, and this set of dark green wooden furniture (which I promise to paint a more interesting colour - that's for another day) was installed on the back lawn by the Olearia hedge. It's a lovely spot for a cup of tea...
Silly...
Then came my silliest purchase - a child's tea-set with cute animal faces, delicately placed on a nice embroidered cloth with the words 'tea time'. Hee hee.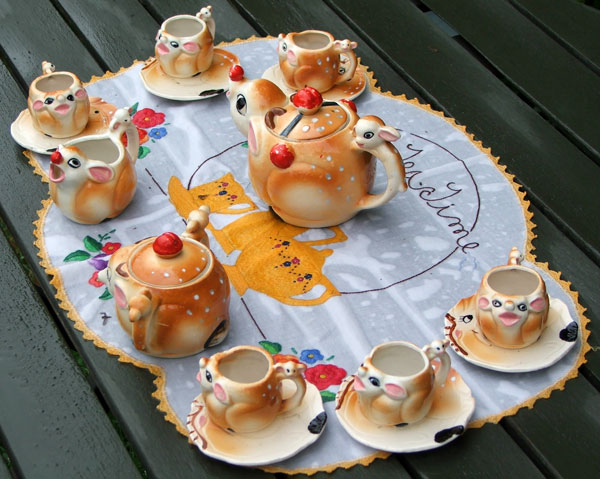 Garden Tea-Set
Big Fluff-Fluff cat spends a lot of time around the Sleep-Out, so these garden seats are perfect for him to enjoy. And so far no cat has knocked any of the cups or saucers down. Cross fingers!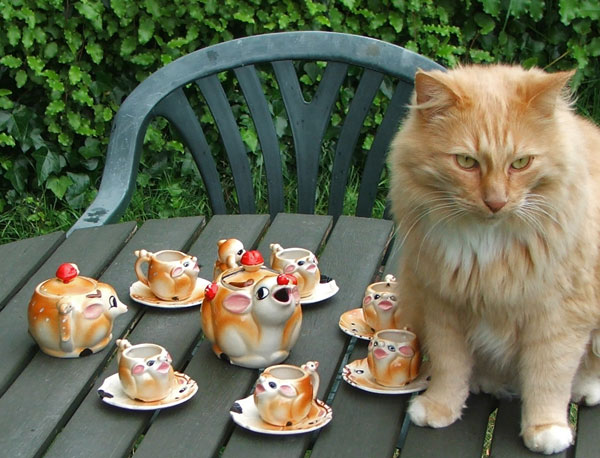 Fluff-Fluff and the Tea Set