The Moosey Washing Line
Ha! The Moosey washing line is an original, consisting wires strung around a tiny triangular piece of lawn. But who was the bright spark who chose this spot to grow a rather feral yellow climbing Banksia rose? Oops.
In the early days all was well. And to give the Head Gardener her due the rose was supposed to grow up high into the neighbouring plum tree. But it had other ideas, and ended up smothering most of the washing line and half bringing down a couple of sturdy fence posts. Another oops...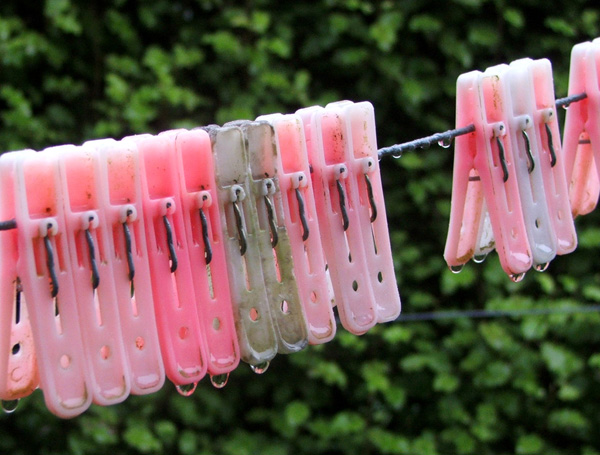 Heirloom Pink Plastic Pegs
Many a freshly washed blue gardening shirt has hung here, flapping in the gentle breeze. In spring Daphne bushes fill the air (and cover the washing) with their beautiful fragrance. It's a pleasure hanging out the clothes!
Washing Line - 1999
The pink pegs in these pictures are originals, too. The Head Gardener has always loved the colour pink in the garden. Enjoy!