Euro 16 for Cats and Dogs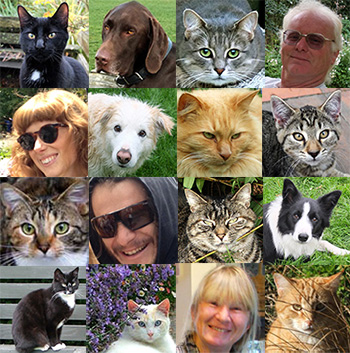 16 Contestants for Euro 16
In Euro 16 (the European football cup) all my cats, dogs, and house-people have drawn a team in the Round of 16. I had to include two posthumous cats (Percy and B-Puss) to make up the numbers. The prize is a carnivore's dream, and hopefully will be won by someone furry. And alive, oops...
Day One
Earlier this morning Rusty the dog (Poland) beat Non-Gardening Partner (Switzerland) in a penalty shoot-out. Tiddles (Wales) won her game against house-daughter, who is a vegetarian. So that worked out well. At the moment I am going into extra time, battling with Histeria (Portugal). C'mon Croatia (I love your shirt design) - do the business for me!
Buster my black cat has drawn the host nation France, one of the top teams. Even beloved ginger Percy (who sadly left us early this year) has a team (the Republic of Ireland). Oddly, two of the dogs were drawn to play their respective human 'fathers'. Big brown Escher represents Iceland - a great fit, since both the dog and the country are sentimental favourites. Winnie, the young border collie, gets Hungary. This seems apt, as she is on a dog-diet - and always gets 'hungary', hee hee.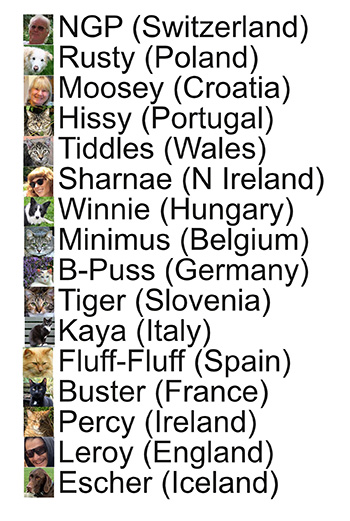 The Draw - Euro 2016
Blast! Histeria has just beaten me. So only one human is left to move into the quarter finals. Go, younger Moosey son! Go England! The pride of the non-furry is in your hands.
Day Two
Long departed B-Puss's Germany plays Tiger the tortoiseshell (Slovenia) today. The other deceased cat, dear Percy, plays Buster's French boys. I'd love to support the underdogs - but should that be 'undercats', possibly? B-Puss couldn't have picked a better team - he was a white cat with pale blonde stripes, and (if I recall correctly) Germany play in white. I'm also expecting to see some pale blonde German footballers. Or am I stuck in a time-warp with the stereotype? Oops.
Onto the Quarter Finals...
Wow. Iceland! Well done, big brown Escher. No non-furries left in the competition now, it's cat versus cat and cat versus dog. Tiddles (Wales) now has to push past Minimus (Belgium, ranked 2) to progress any further. Fluff-Fluff and Winnie have been knocked out. And let's not forget Kaya (Italy). A 'dark horse', possibly? Definitely a dark cat!
And Now the Semis...
Well, well, well. No dogs left now, to fly the canine flag. Congratulations to Histeria for winning her tense penalty shoot-out. Well done Tiddles - another example of tabby power! And B-Puss, on behalf of the dearly departed, winning another penalty shoot-out. Scary! Finally, representing the youth of the Moosey Catworld - elusive, quirky Buster. Excellent paw skills, all of you, and may the best cat win.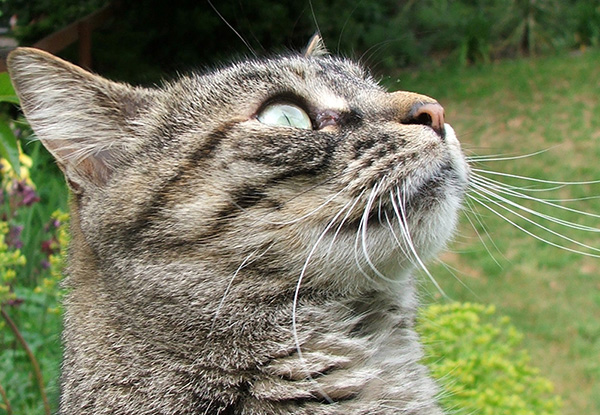 Histeria the Tabby
To cut a long story short, Hissy ended up playing young Buster in the finals. And the old tabby matron, in the twilight of her cat-life, won the game in extra time, which I certainly hope she's going to have in real life as well. Go, Histeria, AKA Portugal, Champion of Euro 2016! And remember, dear Buster, my youngest cat - this doesn't make you a loser. As happens so often, experience triumphs over youth. And you beat the pants off all those barking mad dogs.