Variegated Cordyline Albertii
It had to happen - I finally succumbed - I bit the bullet - I bought a replacement Cordyline Albertii (the super stylish variegated Cabbage Tree, usually spied in pairs of hugely expensive pots on townhouse patios). The year was 2004.
My first variegated Cordyline was purchased in December 1997 - after a garden trip to England. I remember seeing one for sale in a nursery in Diss, Norfolk - with a rather large price tag (three digits, english pounds). Imagine my interest when back home a few weeks later I saw them in a local nursery, priced at fifty New Zealand dollars.
Variegated Cordyline Mark Two Model
This was a bargain! I bought one. It was my most expensive plant purchase ever. I planted it in my biggest pot, and waited to enjoy its style - all the year round. Oops! I think that one of my caterpillar populations found it tasty as well as stylish. By the time I'd discovered the damage my beautiful specimen was full of holes - not a good look. This gardening disaster was duly documented in my diary.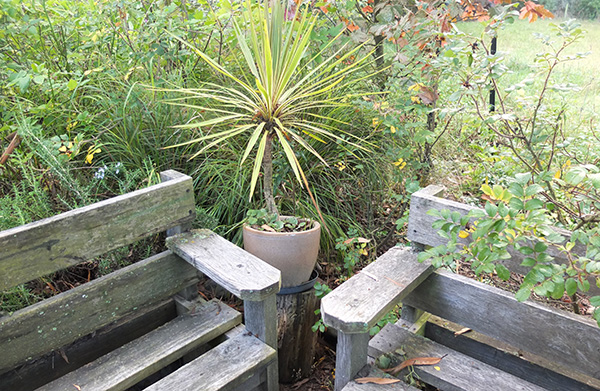 Cordyline Albertii by Rustic Seats
This happened (I am ashamed to say) again and again over the next years. The caterpillars obviously came in my busy season - I never quite knew when, and was never organised enough to catch them. Finally in December 2003, while watering my pots, I noticed that my variegated Cordyline was well and truly dead. It obviously didn't like me trimming off all those holey leaves.
A Replacement Cordyline Albertii
In Easter 2004 I just happened to be passing a Nursery which just happened to have a sale and a brand new Cordyline Albertii just happened to be reduced - 20% off label price (oddly, that price was still fifty New Zealand dollars). I pounced, purchased, and potted within the hour. And made a solemn promise to catch those caterpillars BEFORE they ate the leaves...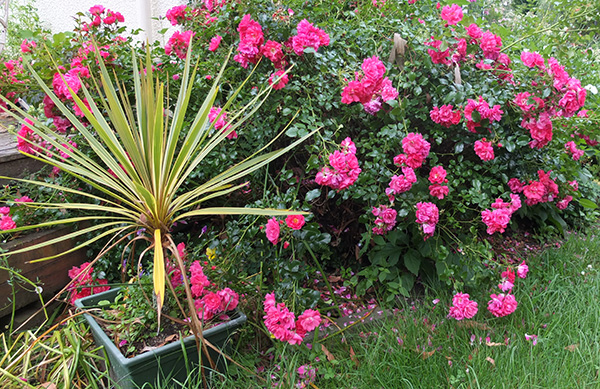 Cordyline and Pink Roses
As the years have passed, this first exciting Cordyline hybrid has been joined in the nurseries by others just as beautiful. It's come down in price, too. I have a couple more, and they still look absolutely gorgeous in a pot. Fashion is temporary, style is permanent?