Trees in the Dog-Path Garden
Trees in the Dog-Path Garden were chosen for their contrasting leaf colour. So there are light greens, and reds, variegations, exotic and deciduous, some limbed up to give space to the flowering shrubs underneath. And all the seasons are represented...
Smoke Bush and Golden Elm Tree
Trees often grow without a gardener realising - until looking back at old photographs. I find it hard to visualise mature trees when I first plant them. And I wonder if I'll still like my choices years later!
The Dog-Path Garden in Autumn
The Dog-Path Garden trees gave me my first big, serious tree purchasing experience. When I think of the books I read and the lists I made! Now, years later, I love the colours I chose. But what are the biggest trees called? Elms? Oops.
Dog-Path Garden Trees and Shrubs - 2007
The red foliage of the Cotinus and the variegation of the smaller Dogwoods are beautiful in spring and summer. Later in autumn there are some brilliant colour displays. I'm happy - I think my trees were a good choice. As the woodland feeling of this garden increases I've had to move out the smaller plants which are sun-seekers. And please don't look at the state of the grass! Aargh!
Early Dog-Path Garden Tree Photographs
In these photographs from the archives you can see the curved edge of the Dog-Path Garden, with the garage on the other side of the water race in the distance. It won't be long before the stumps in this garden are completely covered. The trees in the back of the Dog-Path Garden are in their second full summer, and are growing quickly. The larger tree is a Golden Elm, and the tree with fruit salad coloured leaves is a Cornus Cherokee.
Archive Photographs - Golden Elm and Cornus 1999
The new trees were so exciting to plan for and purchase. They were chosen for their all-year-round features. The large Nicotiana Sylvestris plants seen in the photographs are self-seeders, and are superb in a large country garden. They have such stunning leaves, as well as being fragrant at dusk, when their white flowers glow and become translucent.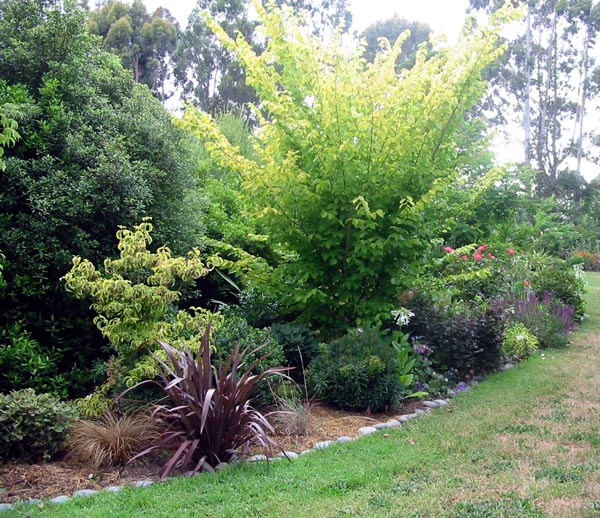 Trees in the Dog-Path Garden - Summer 2004
The Golden Elm tree has been a great choice to plant here in the Dog-Path garden. I can see its bright and light green growth from the upstairs house windows.