Koru Sculpture
The Koru sculpture sits in a small area of the Dog-Path Garden, originally with Rhapsody in Blue roses and Rosemary for company. In spring there are many yellow daffodils nearby. A little mulched path used to run past to the Dog-Path seat by the water. Alas, that path (and the seat) are no more - there's just been too much greenery growth!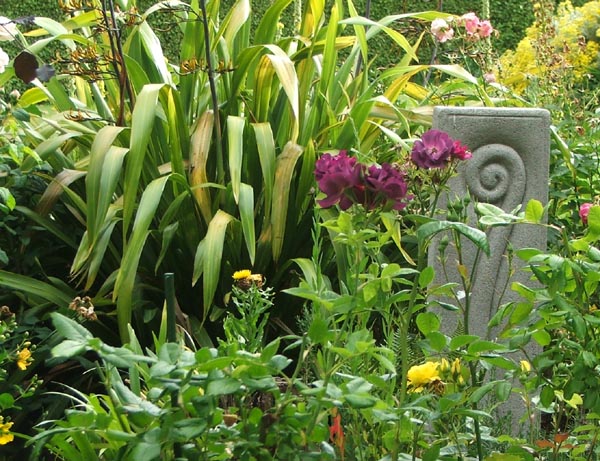 Artistic - Not Messy!
The Koru shape is a stylised fern frond, and symbolises new growth. There's a nice connection with the many real green ferns growing nearby on the edge of the water race.
Koru Sculpture in Autumn
In Remembrance
Initially I tried to keep to two colours (blue and lemon) in the flowery and shrubby plantings around the Koru sculpture. But now there's too much shade, the Rosemary is sulking, and the roses have had to move out. The Koru sits quietly on its concrete slab in front of a large green flax, a gentle memorial surrounded by greenery. It's going nowhere.
Koru and Ferns