Dog-Path Garden Rhododendrons
The Moosey Rhododendron Festival continues into late spring as more new rhododendrons start to flower. In the middle of the Dog-Path Garden a few of these colourful shrubs shelter, snug underneath the limbed-up Pittosporum trees.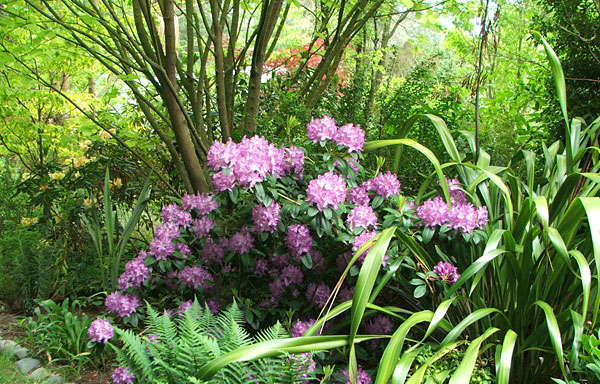 The Last of the Rhododendrons
The soil in this garden is very good quality, and the shrubs planted here are really thriving. Since the trees were pruned I can see the Dog-Path Garden rhododendrons from the house-side of the water race. In early years I missed some flowering altogether.
Yellow Rhododendron
In the spring of 2004 I faithfully photographed all ther Dog-Path rhododendrons in flower - it's a pity that I didn't find any plant labels! The reason was that they'd been anonymously abandoned in the nursery bargain bin. Honestly!
Early White Rhododendron
Actually I'm lucky that I have any surviving rhododendrons at all in the Moosey garden - I have been known to plant these majestic shrubs in ridiculously inappropriate locations. Enough said!
Update
Apart from the yellow and white rhododendrons in the photographs, plus an early scarlet (in the photograph below) and a purply-blue beauty called Blue Jay, no more rhododendrons have arrived to grace this garden. Pity - I'm sure there's space for more...
Red Rhododendron in the Dog-Path Garden