Miniature Daffodils
The very first daffodils to flower in the Moosey spring garden are the miniature yellow trumpets. I grow several clumps of these, sensibly placed (for once) right on the edge of the garden beds.
Miniature Daffodils in the Stables Garden
These wee charmers are actually quite small - they bloom about 20cm off the ground - and never flop or get blown over. Their strength-to-weight ratio is obviously correct, unlike some of the taller mass-produces hybrids.
2006 - Spring Lamb with Daffodils
This latest spring I took this charming photograph of our pet merino lamb Haru. What is it that we say about taking time to smell the roses? She seems rather interested in smelling the miniature daffodils, and luckily as yet has not tried to eat any. Lambs and daffodils - two symbols of spring in one picture!
More Miniatures
These small lemon jonquils flower right in the middle of spring, when the bright yellow miniature trumpet daffodils are finishing. They are easy to miss in the riot of yellow, so I grow them on the edge of the border.
Miniature Lemon Jonquils
I wonder why I call these flowering spring bulbs jonquils? I've always called this type of daffodil by that name. My reference book crustily (and no doubt properly) uses the correct term Narcissus - that's no help!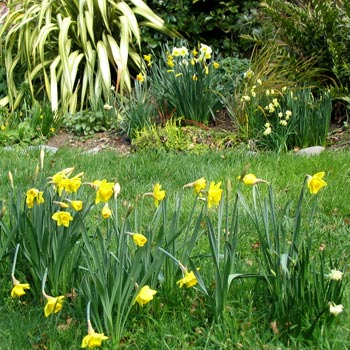 Masses of Yellow
Miniature daffodils (or jonquils) are very beautiful additions to my mid-September garden, blooming right at the time of the equinox. By this time many other clumps of daffodils are blooming - I like the contrasts of size and colour very much.
Spring Flowers
These pretty spring flowers have the added advantage that they don't blow to the ground in the wind. Often after rain I'll find many casualties with their faces in the soil, but the miniatures will still be upright.
You'll see in this picture that I have one patch of normal yellow trumpet daffodils growing in the lawn. It's a bit of a nuisance, but the results every year are lovely. The person who mows the lawns needs to be quite understanding - after flowering the stalks must be left to die off naturally, and this can take weeks and weeks.