Pond Decking Garden Furniture
The Pond Decking has always been the perfect place for some garden furniture. In the past I've hauled out plastic seats for friends to enjoy the sparkling summer water. Then the wind would come and blow them into the pond. Oops.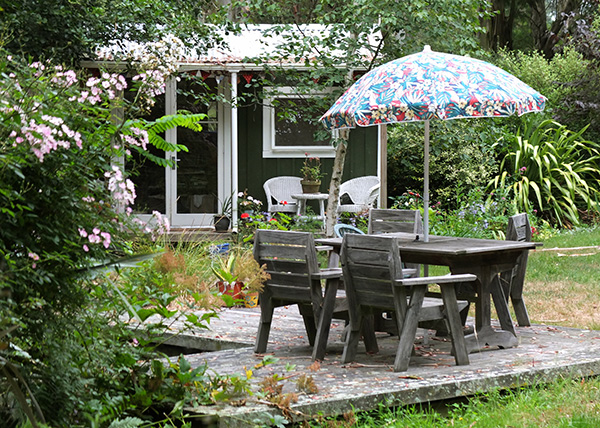 Pond Decking Table and Chairs
Finding a sturdy, cheap, second hand garden dining suite became one of my major plans. And here it is - a wooden table with four non-blow-away chairs, with a delightfully weathered look and no wobbly bits. Dining by the pond has become a pleasure, and I often take my morning or afternoon tea there.
Pond Decking Garden Furniture
Hardly a minute goes by before a cat appears, and Rusty the dog will inevitably be sitting on the nearby grass waiting (hopefully) for a dog biscuit. The cat in this spring photograph is faithful cat Fluff-Fluff.
Tiger Cat Sits on the Pond Table
The floral umbrella (wonderful for shading the summer sun) cost me ten dollars. And it hasn't blown away yet...