Footbridges in the Woods
The Wattle Woods now has a forever-flowing little wriggling stream. Non-Gardening Partner has built me two little curved footbridges for easy crossing from side to side. Can bridges be beautiful? Oh, yes - these two certainly are!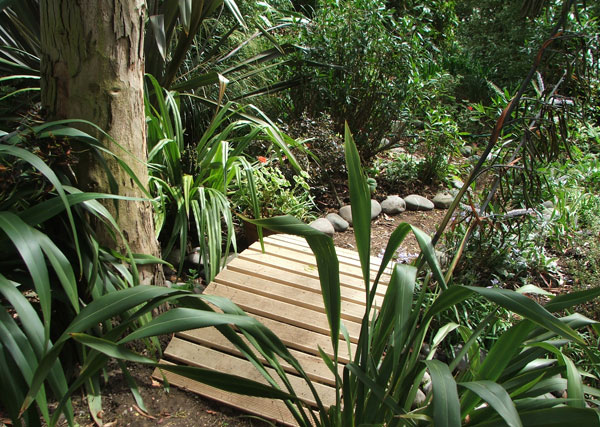 New Wooden Bridge
OK, I could have leapt over the stream, which is half a metre wide at most from stone edge to stone edge. But not holding an armful of rakes and shovels, and certainly not with the wheelbarrow.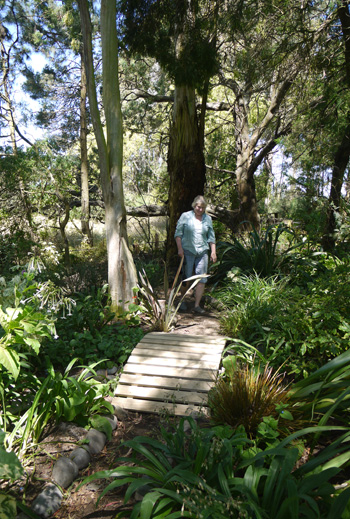 The Upper Wattle Woods Bridge
Mountain bikers might stride manfully over obstacles with their cycle high above their head. But lady-gardeners hoisting up their wheelbarrows? No way.
Suitable for Wheelbarrows
So, oddly, this is the biggest joy about the footbridges - I can wheel a full barrow load of rubbish, long handled tools balancing on top, up and over, in either direction, without anything dropping off. The slope is gentle enough not to pose a problem, either. In fact the design and the size fits the scale of the Wattle Woods perfectly. They are full of foliage plants - Agapanthus, Phormiums, and Hebes - which set off the wood rather nicely.
Great Workmanship
As usual Non-Gardening Partner's standard of workmanship is sublime. And these two little bridges were delivered in record time. The only drawback was a bit of wastage from the timber (a problem with the curves, which were cut out of solid pieces of wood).
Consumer Tested By An Old Lady!
The paths on either side of the bridge positions were organised first. Then the bridges (heavy enough to be totally wobble-free) were just placed level in position. Instant success! They have even been consumer tested my friend's ancient mother, who has had two hip operations. No problems for her - I guess that's good news for me in twenty years' time...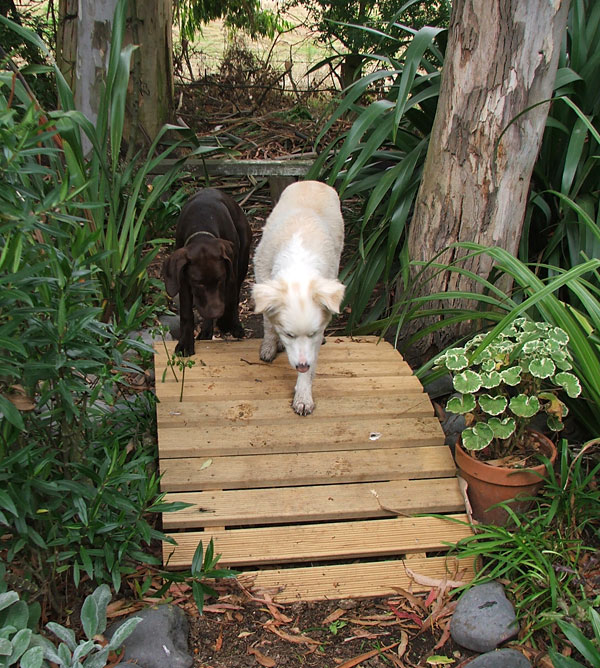 Dogs on the Footbridge
Footnote
This bridge has been tested on animals, hee hee...