A Cottage Garden?
A Cottage Garden? Strictly speaking, yes - I've just dug a tiny four-seasons garden round Pond Cottage, to hug the verandah and one side wall. It's been composted, and most of the plants are already in.
I'm writing this in spring, when ideas feel as fresh and full of promise as the garden itself. I love the 'cottage garden' style, with pretty, fluffy flowering annuals and roses. But for this tiny garden I've had to compromise. The garden had to look good all year round.

Digging the Garden
First I wanted to define the edge of the garden shape, and of course my spring and summer thoughts went to Lavender. Then the proud New Zealand Gardener in me chipped in with a tiny, well-clipped Hebe hedge. Enter the budget realist - I just happened to have a dozen large clumps of miniature Agapanthus, creamy-white flowering, ready to divide and replant. Ha! Perfect! And they were free...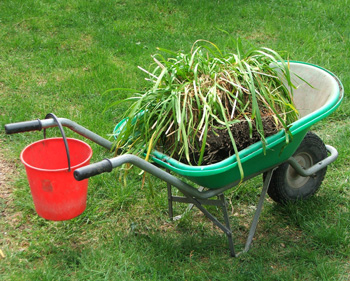 Agapanthus Clump
Do What's Obvious...
I've always been a great believer in doing what's obvious at the time, design wise. And I needed some foliage greens in my design, to offset the rather strong paint colour of the walls.
So Phase One comprises a dwarf Agapanthus edging, using generous clumps, with autumn and winter well-catered for. Of course I expect flowers mid-summer, and the [plantings will just about be sheltered from the frosts in winter.
Any Garden Must Have Roses!
Phase Two involves roses - any garden, cottage or not, must have roses! A row of flowering shrubs are to be planted in front of the verandah - they've all been rescued from poor locations in my garden, and several are David Austins. A climber (whose colour I mistrust, hence it stays in its pot for now) may be temporarily encouraged up the side verandah post, while another (the creamy-white Lamarque, carefully colour-chosen) is to be trellised on the side wall. All I need is the trellis...

Flowering Annuals and Roses
Phase three involves the annual budget beauties. I have lots of self-sown cornflowers (mainly blues and purples), and these tall annual beauties will look fluffy and gorgeous in the gaps from late spring on. I just need to scoop some out of their present garden - they won't even notice the change of scenery. And they'll self-seed for next year. Nice! I'll add in some pansies, and maybe a small group of foxgloves. Cross fingers they're apricot or white...
And Some Giant Angelica, Please
Phase four - a designer 'bee plant' that I grow from seed, the biennial Korean Angelica, with tall purple flower-heads in late summer. Not in front of the open window, though - I don't want my bees getting confused and bumbling into the cottage.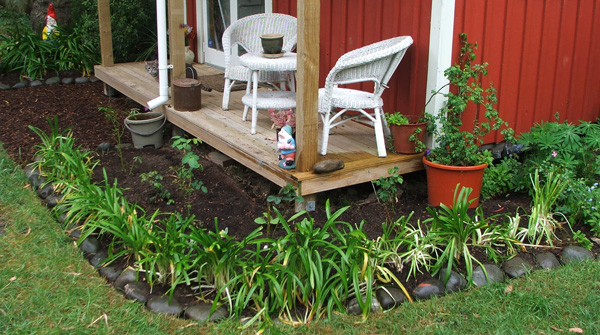 The Cottage's Garden is Finished
And finally, if there's any room left, some perennial Lupins will complete the picture. Their fresh spring foliage is gorgeous, and the flowers (mainly blues) are tall and stately. I have lots of Lupin plants (grown from cuttings) ready and waiting to go.
More Photographs to Come...
There - my cottage garden is planned and planted (well, most of it is). I'll take more photographs when the flowers get going, to show you how it looks.