Building With River Stones
Yet again I'm off to the local river with my dog to collect more stones. Stones, stones, stones - they're everywhere in my garden, a theme, a repeated motif. Yippee! That makes my garden design seem co-ordinated...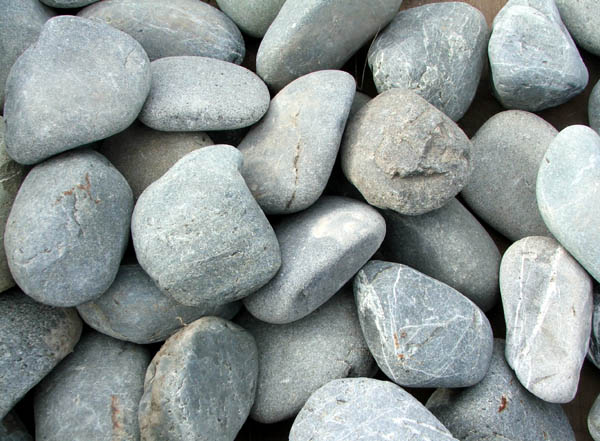 River Stones
Use Local Materials
'Use local materials' is the good garden-designer's catch phrase. My garden is created on what was, two hundred years ago, the flood plain of a wide braided river. In some places the soil is very stony, and I often have to dig out a stone or two before planting.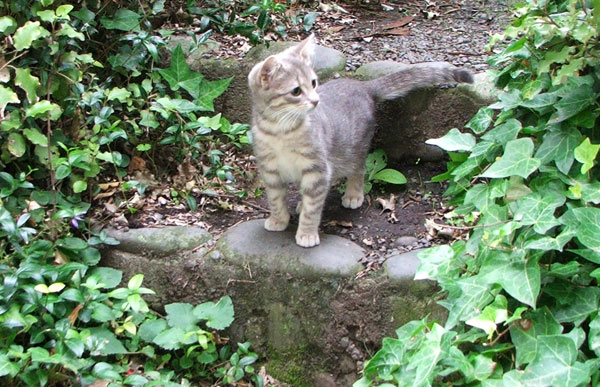 Stones in Steps
Previous owners had made a stone retaining wall at the back of the house, and laid flatter river stones in concrete for house paths and the surfaces of garden steps. I first thought of using river stones to encircle newly planted shrubs and trees - as a rabbit deterrent.
Path Edging
The 'stoning' of the edge of the first Moosey Dog-Path was THE defining moment. My paths weaved and ducked through new gardens, following the route taken by my dog. I'm a pathaholic - and the tiny, orderly part of my random garden-designing brain required path edges. The smooth grey river stones were perfect!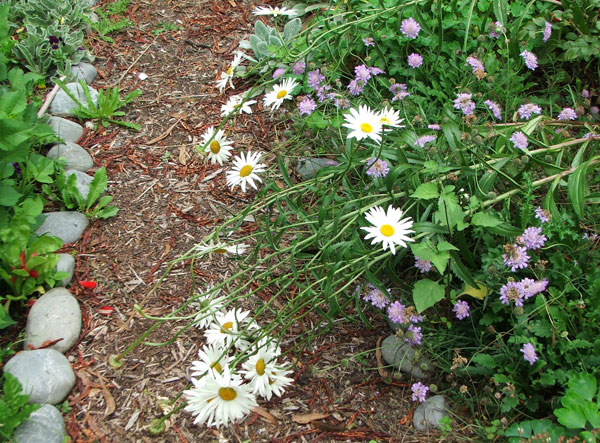 Stones for Path Edges
My first retaining stone wall was modest - only three stones high, and ran along the edge of the water race. But what a feat! I was so proud! And I realised that an older-lady gardener with puny upper-arms and fading finger strength could easily cart and carry stones. They were the perfect modular construction material...
Needed - More Stones!
On-property stones soon ran out, so I started taking the dog down to the nearby river to do some cruising (him) and collecting (me). The number of garden paths needing edges kept increasing. And I always seemed to be running out - I always needed more stones for my garden work.
Stones for Walls
Then I built a more serious retaining wall, with in-fill behind - my most ambitions stone project yet. This created a whole new garden, which I call The Shrubbery. Just occasionally a large cat will chase another large cat up the wall and dislodge some stones. Oops.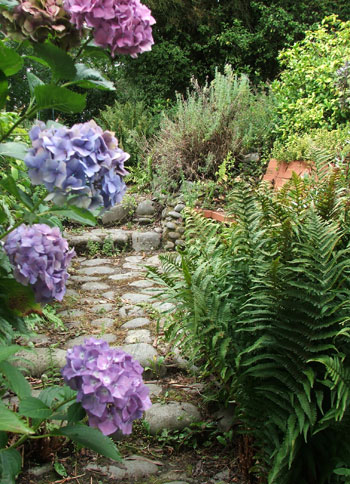 Laundry Stone Path
Peer At, Pick Up and Place
It's not exactly dry-stone walling, using secret techniques handed down by forefathers and foremothers. I use the PPP technique - 'Peer At, Pick Up, and Place'.
One becomes quite a shape connoisseur. Flat stones are useful, but not the best for path edging. Roundish triangular stones work the best - though, technically speaking, such stones would be dead flat! I think I might mean tetrahedral...
Where To Next?
Some gardeners just don't know when to stop. After watching a TV programme where teams of skilled masons spent years restoring a small stone 'castle' in England, I had a brilliant idea. The word 'over-reaching' springs to mind.
Stone Tower Plans
I want to build a stone tower at the back of my pond, with gaps for windows and an open door entrance, and a little pointy roof. A bit mediaeval, the same size as a generous hexagonal gazebo.
I haven't started yet. But hey! Big things start with small ideas. Watch this space.