Weeds, dead-heads, more weeds...
Weeds are weeded. Dead-heads are dead-headed. Edges are done. More weeds are weeded. More dead-heads are dead-headed. The same edges are done again, and so on it goes...
Middle Border Glowing in late Afternoon Sun
Saturday 1st January
No gardening today. Happy new year. Happy new century etc. All of my plants are Y2K compliant.
Monday 3rd January
Stephen and I have been to Arthurs Pass (to look at nature's rock gardens). It's pretty simple really - hebes, tussocks, flaxes, manuka in flower, and rocks.
Tuesday 4th January
Where are all my predicted nasturtiums? My shred-to-self-seed programme has failed! I have run out of plants, and I must stake the dahlias OR ELSE. The phloxes have spread and bulked out so much, but do I want them all over the place?
Wednesday 5th January
Hah! I did cuttings of things like Nepeta Six Hills Giant and Bowles Mauve wallflower. Then I staked. And I am the dead-heading queen.
Sunday 9th January
The garden tends to drift into repetitive maintenance mode at this time of year - dead-heading, trimming, etc. The only new thing I do is to remove the obvious mistakes, hard-heartedly plonking them in a new spot (survive or DIE). I must get Stephen to deal to ugly baldy New Dawn (rust never sleeps). And I did have a huge burn-up near Middle Bridge, clearing gorse stumps and all the rubbish dropped by the gums. We kicked the Windies (cricket) and Pakistan kicked Ozzie (cricket). I love cricket.
Monday 10th January
I am inspired again. Middle Border is bigger and the rhododendrons are starting to fatten out. The red Cordylines look so cool. There is room for another tree? - a wee curving hedge? - Flaxes? A secret garden? I am totally unsuccessful at creating secret gardens. My garden design style (tentacles creeping out in all directions from the house) is hopeless for secret gardens. I wonder if secret gardens only exist in other people's gardens and not in your own.
the hand painted rose old master
I cleared out the Echiums in the wee garden with the Abraham Derby roses. They are well past their use-by date. Apart from the phloxes completely smothering a couple of lame roses, the wee garden is much improved (two barrowfuls of stuff taken out). I love my garden.
Thursday 13th January
I still love my garden. I have bought some bargain bin tussocks (Carex goldilocks) which are going over the water race near the water. I might build a new path on water's edge.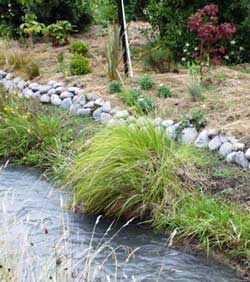 The New Water Race Path
Friday 14th January
I have started the new path! It goes right along the water's edge, and the garden gets a wee stone wall. It is nice to be developing and moving forward again rather than poking around weeding.
Saturday 15th January
Light drizzle fell all day and Stephen had a fire. I raked and raked. I can't believe that the gums left so much rubbish on the ground. Gums spend their entire lives dropping rubbish on the ground below - strips of bark, branches, leaves. Bizarre.
Sunday 16th January
Ha! My new path is longer. It now reaches nearly 4.5 metres, edged garden-side by a row of tussocks. I need so many new plants it's scary!
Monday 17th January
What shall I do first?? Here follows a list of decisive decisions...
Decisions
Plant stuff.
Weed stuff.
Dead-head stuff.
Boring list.
Wednesday 19th January
The new path is a very nice path - a very very nice path. And it is a LONGER path. I may put some steps in (engineering challenge) by the big stump and then a seat. The invasive euphorbia Fens Ruby is planted on top of one bit of the stone wall. It can invade as much as it wants. I need to think about more dryish-shade plants for the Wattle Woods garden. And I want a Prunus Serrula.
Thursday 20th January
Cleared some of the lettuce trees from the vege garden. Somewhere in there are tomatoes which I have forgotten to stake. They will have to grow au naturel, laterals and all.
Friday 21st January
The NASTY GRASS in the Hen House Border continues to be difficult. Again I have committed organic fraud by sending Stephen out with the spray-pack full of Round-Up. He has also done some heavy duty rust-buster spraying on ugly baldy New Dawn Rose. I shall of course deny everything.
Saturday 22nd January
The best way to enjoy new bits of garden is to zoom to a new spot for 3 or 4 weeks, then to return. Wow! Growth! Bouff!..... then to weed like a lunatic and repeat the process...
Sunday 23rd January
Finally remembered to plant the Blackboy Peach (yum).
Monday 24th January
What shall I do first today? I will walk around the whole garden looking for shiftables like the small flaxes in the driveway border. I will make a list which I will follow, even the boring things.
Saturday 29th January
I have ripped out all the clary sages (stinky) and a lot of lychnises (scruffy) and chopped up some past-it pansies. A lot of the borders get a lot of spare space when I do this. There used to be a small path which wound down from the glass-house to the Wattle Woods. It exists again.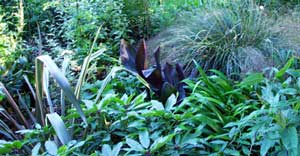 Wattle Woods Foliage
Sunday 30th January
The Wattle Woods are going to get quite a shock when the tree lucernes come down. SUN will shine on the plants! I think that this is a good thing, and certain of the foliage plants (e.g. the cannas) will agree with me. Also there are a few nice roses in there and they will be encouraged to bloom more. I am promised that the trees will be down soon. I can't imagine the tree-less look... I have been wandering around trying to squint and block out the trees with my fingers. I am a hopeless visualiser...