October in my garden...
October has been a bit of a disaster for me in my garden. The first weekend it rained continuously. The second weekend I had to go up to Auckland for work.
Rhododendron
The third weekend is now, and I am dutifully writing up my diary for the first time. In three hours we fly over to Tasmania for a week's holiday.
First Irises
The garden has been busily growing - blossom trees, new rhododendrons, Japanese irises flowering, and I've missed most of it. This will never happen to me again. This is the month so full of promises, and my work commitments have been ridiculous. When I am a retired person (next year) hopefully I will remember these hopeless feelings and give thanks. All I can do at the moment is hope that my pottles of annuals will survive (they are all moved into the shade, and being fiercely watered as I write) and that nothing will grow too much while I am gone. Ridiculous!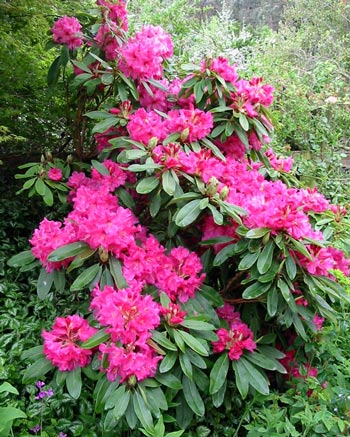 Rose Pink
I have taken a clutch of photos to record this overwhelming time of the year. There are the first irises flowering, not to mention the rhododendrons. Typical of me to rave on about these majestic shrubs, pop them in everywhere, then forget to check them in their flowering season! This is the blossom month, too, and my various blossom trees have distinctly different times when they start flowering. Of course the wind can disrupt things severely. I look forward to being more organised and have my own version of a blossom-following pilgrimage.
Lavender
When I am better organised I might do some research and discover the names and flower colours of all my rhododendrons. And I could organise a sensible pruning programme for the lavenders.
The next two weekends, with the intervening week, will be spent touring around Tasmania, so the garden content in this month's journal will be a little thin.
Blossom in the Pond Paddock
And there is a huge amount of school work to do in the next few weeks too. Oh dear! I hope I don't miss out on too much as the plants grow without me. Retirement - just you wait!