Be fierce!
Today I have to work fiercely in my garden. There are four weeks to go until I fly off on my trip. I must leave a tidy, well-organised winter garden behind. Every dry and warm day (like today) must be spent wisely!
Moosey Animals Prepare for a Day in the Garden
Tuesday 8th May
Today, for example, I could cut down all remaining dahlias and perennials, and start raking fallen leaves off the lawns. The Dog-Path garden still needs its new curved edge dug, and I have an old preserving pan to plant up with silver beet for Henworld.
My Secret Weapon - Mugsy the Cat
+5Mugsy my disabled cat is my secret social weapon as I continue my kitten fostering, trying to integrate three wild kittens into the world of caring humans, gently patting hands, and tender voices.
Mugsy the Cat :

Mugsy the cat is not very brainy, but has the sweetest personality. She's harmless, lovable - and she wouldn't threaten a fly!
As I write she is sitting on my lap, purring, and the kittens have carefully walked over the Moosey desk to sniff noses. Mugsy gets to share the special kitten meals in the Moosey office, so she thinks this arrangement is grand. Be patient, says my vet, I knew that!
Did I say I was going to work fiercely? I'm not in a very fierce mood. I might try and visit every garden area and tidy up one thing. That way my list of accomplishments will look huge!
One thought before I launch myself. How quickly the red autumn leaves on my trees die and drop! The Cercis is bare - now the Dogwoods and Oaks have taken over autumn colour duties. My goodness I love my Dogwood trees - they give leaf interest three seasons of the year, as well as spring flowering bracts to marvel over. And just last week the Dalmera (ornamental rhubarb) by the water had leaves coloured dull gold with brown highlights. Yesterday - dead, dry and crackling brown.
Lunchtime... A Poultry Puzzle
My rooster and one grey striped hen (just one) have found a way of getting out of the chicken run. I can't see how they do it. Twice this morning I've found them happily scratching outside the firmly shut run door - having left the others behind. Flight, perhaps? The hen is big and clumsy, and I can't see her gaining sufficient altitude. Why has she alone decided to follow rooster to the ends of the Moosey earth? Odd bird.
Birthday Garden Bird-Bath
I'm only having a short lunch break. But I'm allowed to show off - my reward is that I'm allowed to write a sub-list! So here are the morning's most interesting tasks completed, with garden areas visited.
Sub-List One
The Birthday Rose Garden

My new rose archway, though flimsy, is up. Celine Forrestier is planted, and the garden edge by the bird-bath re-shaped.

Near Car Bridge

A first - these water race banks are weeded and I've planted two Lomandra grasses.

The Willow Tree Garden

Boring news - I've cut back the dahlias.
Goodbye Dahlias
Now I'm off. Cancel that - I'm back, three hours later. Here's my next sub-list.
Sub-List Two
The Dog-Path Garden

Finally the edges are redug. There's room for more roses, hee hee.

The Rubbish Heap

A quick burn-up of the latest flax leaves and gum rubbish. Why do I grow flaxes and gum trees?
It's definitely afternoon coffee time, and the kittens are sound asleep in a drawer. So I'm off outside to read my book before the autumn sun sinks too low.
Willow Leaves on the Gunnera
Later...
I have just explained to Miss Hissy Kitten in my desk drawer how lucky she is. She has a tummy full of steak and kitten milk. She is warm, and there are no hawks circling overhead ready to scoop her up, up and away. The nicest older-lady in the world is chattering away, while a brain-training Bach Brandenburg Concerto burbles away in the background.
Seriously, I wonder if we are going nowhere, and three well-fed kittens will go back into the paddock in a couple of week's time. If this has to happen they'll be healthy, and neutered. The unsentimental side of cat rescuing - I am learning, slowly!
Wednesday 9th May
A dilemma. Should I go walking today on the Peninsula up a track which I've walked a few times before? Or should I stay home and move mountains? If I stay, I will need to be super-productive - garden, piano playing, swimming and a bicycle ride. Hmm...
Cats, Dogs, And Kittens
Regarding the wild kittens - slow progress, almost no progress. But this morning a foot sniff, and lots of chasing the catnip mouse past me. And they even emerged for their breakfast. Food? Eek! Scary human! Never-the-less, food... While my six loving, friendly, normal cats wait (some are semi-sulking) downstairs, and Rusty the dog squeaks rudely outside the office door.
Toadstools and Oak Leaves
If I do stay home, and I do work really well in the garden, Rusty the dog will enjoy his day so much more, and my garden would be one step closer to being fully winter-organised. My self-reward could be writing an uber-list. I'm tempted...
Late Morning Tea...
Two hours of tidying in the Driveway Garden - I've shifted another Rhododendron, laid more newspaper underneath the mulch, and chopped out some old grasses.
Clematis Montana :

Clematis Montana has grown in the Driveway Border for ten years. It has been chopped down twice, but of course it survives. It's a plant behaving very badly! Aargh!
What to do with a keen Clematis? Unfortunately it's the Montana type, whose purpose in life is to run rampant through my fence roses and weeping cherry trees. All I'm doing is nipping off tendrils of growth every few weeks - not exactly a well-thought-out plan. But guess what - I've already done a half hour of piano practice on my Albeniz music. What a virtuous gardener...
Right. My second two hour gardening session is over, and I finish the garden day even more virtuous than before. I've been in the glass-house potting up pieces of this and that, wheeling in tender plants in pots - like my favourite variegated pelargoniums. Maybe, just maybe, these cuttings (plus the newest coloured daisies) will grow roots before winter.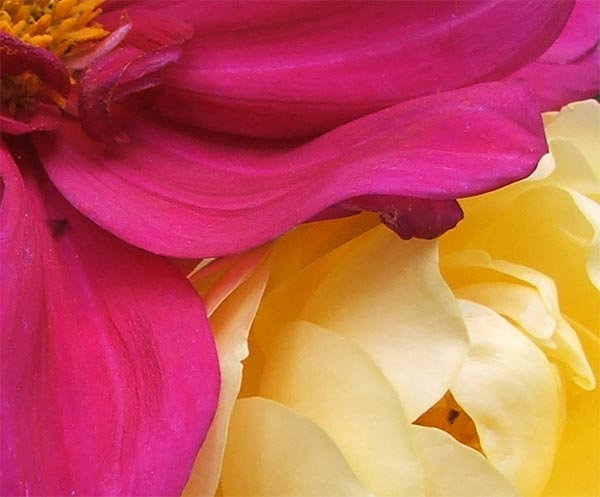 Flower Colour
Oops - the bookcase is growling at me. My office is like a room in a Harry Potter movie, with hissing pillows and grumpy drawers and the like. I despair of these kittens - what more can I do? I rattle food dishes, I talk to them, and I spend time with them. Humph.
Thursday 10th May
Another balmy day in paradise. I have new Hebes to plant, a bored dog to bicycle with, and a huge country garden to enjoy. I've been kitten-sitting in the Moosey office - just a few half-hearted spits from the bookcase this morning, a paw on my leg, and a nose sniff of my fingers. What's that saying - as slow as a wet week? Kittens - hurry up and make the connection. Hands - food - full tummy - nice feeling.
Lunchtime, and my secret feline weapon Mugsy the disabled cat has come for some kitten socialisation - she eats their food, they watch her - well, it's a small something! Mugsy will end up super-sized, if nothing else. I eat my lunch, slurp my coffee and wish I had the stamina of ten marathon runners. I've been working in the Pond Paddock trimming and pulling the old dead leaves off my Cordylines. And I've always thought that gardeners who groom their Cabbage trees have way too much time on their hands!
My New Shredder :

My new shredder is a Hansa Brush Chipper, Model C6, designed for larger domestic gardens and lifestyle blocks.
I have a huge pile of branches for the shredder, and a huge bonfire of cordyline rubbish ready to burn. But there is much more to do - weeding, cleaning up the hostas, and raking up a million dead autumn leaves. Three quarters of the lawn is completely covered by the leaves from just one Oak tree. The two flowering cherries haven't started yet!
It is my intention to return after lunch, rake all leaves up and bag them. I will also lightly weed all the gardens surrounding the Pond Paddock. Then I will have a giant burn-up, a personal clean-up, and play my Albeniz while the tea is cooking. It's simple.
Much Later...
I've done my best. I'm off to play the piano.