The Pond Paddock
The Pond Paddock used to be a sheep paddock, and the grass is still fairly rough and robust. It is now ringed with garden borders and dotted with mature deciduous trees - flowering cherries, oaks, a silver birch and a maple.
Pond Paddock Trees
Over the years things became more and more shady throughout summer, and some of the paddock grass became over-run with moss. Removal and spring sowings of grass seed didn't work, so I changed direction and turned the shady area underneath the flowering cherries into a large oval shaped border. I loaded it up with horse manure, mulch, and leaves. I edged it with divisions of Rock lilies (Renga Renga), and planted mainly Phormiums and Carexes in its interior. No point in letting the grass struggle any longer.
My New Pond Paddock Garden
Quite a few self-sown seedling plants have generously joined the new Pond Paddock garden - Pseudopanax, Pittosporums, and Cordylines. They are happy with the shade in summer. There might be a place for a few rhododendrons - we'll have to wait and see. The flowering cherries are great for tree climbing, and I'm going to install a couple of swings. For the smaller visitors, you understand.
Pond Paddock in Early Autumn
In autumn, fallen leaves cover what's left of the Pond Paddock grass. Much raking and bagging of leaves goes on - over many weeks. But the colours are so pretty, and I rather like scuffing through them on my way back and forth to Pond Cottage. I pile the bags under the nearby gum tree, cross my fingers, and wait for leaf mould.
Bags of Oak Leaves
I have some interesting early photographs of the Pond Paddock, taken from the Ram Paddock. Pond Cottage is there on the left, looking so pretty nestled in the trees. The lawn in these pictures was still coping, nicely green.
Pond Cottage and the Pond Paddock
The photograph below was taken in 2006. You'll see the Jelly Bean Border on the right.
Blossom in the Pond Paddock
From the Archives...
Below is a photograph from the Moosey Archives, taken in the year 1999. You can see that the Gunnera has some wind damage to the edges of its leaves. I have always had plans to incorporate the Ram Paddock into the Pond paddock - unfortunately the wire fence which separates them is still firmly in place.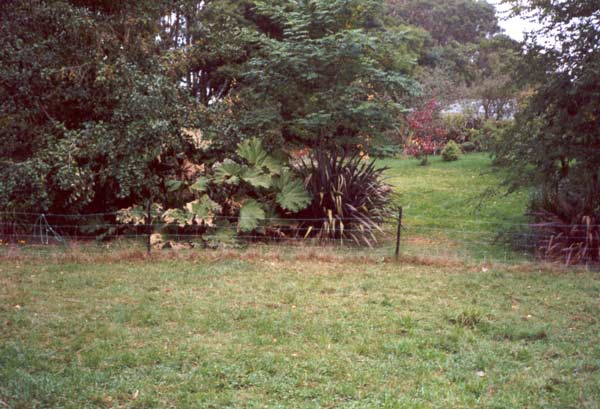 the pond paddock 1999